Why we chose these plants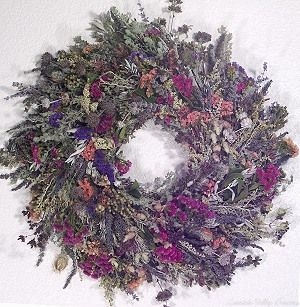 Crafting with Herbs is one of the great rewards for growing a bountiful Herb Garden. Herbs are the perfect instruments for creating wreaths, arrangements, soaps, candles, and paper. All of these can be created with just a few simple herbs from your garden. Below are six of our favorite crafting herbs.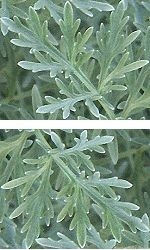 Fragrant, abundant, easy to work with; this crafter's plant fills every requirement. Powis Castle Artemisia is drought resistant, but looks better and blooms more when watered regularly. It likes full sun and good drainage and will remain evergreen. It never has to be pruned, but can be cut for shape or craft anytime. When pruning, make sure to leave plenty of gray leaves showing, cutting to the ground may kill the plant. Harvest leaf clusters anytime and flowers before they brown. Hardy in Zones 7-11, Powis Castle can be grown in a pot, if necessary, and over wintered in a bright window. Because the goal is to provide lots of cuttings for crafts, give each plant at least a gallon of soil the first year and an additional gallon each year. When the pot size becomes unwieldy, root prune and repot with fresh soil.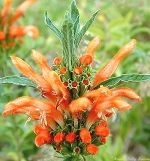 Lion's Tail flowers should be picked before all of the flowers have opened. In the photo on the left, you can see more flower buds yet to open on both the top and bottom of the flower head. The object is to harvest while the flowers are fresh looking. Hung upside down in groups to dry or used fresh to make a wreath or arrangement, dried Lion's Tail flowers can last for up to two years without fading. It is a striking focal point or fill in for fall crafts.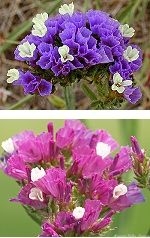 The colorful bracts are what remain when Statice is dried. Used fresh or dried, Statice helps to pull a wreath or an arrangement closer. It adds that final touch of color that makes the bouquet complete. To dry, hang upside down or leave right side up in a vase. Make sure to cut flower stems that show no browning flowers or bracts. Statice grows very quickly and will bloom the first year if planted early in spring. It can be brought in for the winter in cold winter areas, or, because it grows well in one season, grown as an annual. Midnight Blue and American Beauty Rose Statice are shown on the left. Either one might be included in this garden.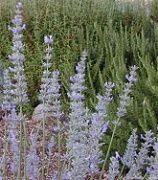 This brightly colored Lavender makes an excellent cut and dried flower. Hardy in Zones 5-11, Hidcote Giant Lavender is profuse bloomer that grows to about three feet by three feet. Harvest when about a third of the wand has opened its flowers. Like all Lavenders, Hidcote Giant needs to be pruned for shape after bloom. Do this by cutting beyond the flower spike two to three inches into the leaves. It is never a good idea to prune into wood with no leaves. Avoid hard pruning in high heat.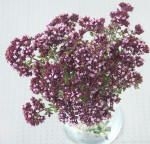 Not very tasty, but absolutely perfect for crafts; this beautiful oregano is graced with long wands of fat dark purple flower heads perfect for accenting any wreath or arrangement. Hardy in Zones 6-11, it makes an outstanding addition to most landscapes. Cut the flowers before the bracts start to brown. Use the flowers fresh or stand in a dry vase for later use.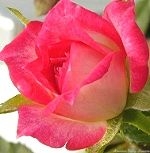 Covered with hundreds of perfect miniature versions of a full size rose, Magic Carrousel Rose will grow to about four feet by four feet. It benefits from either pruning about half its height back in the fall to make a hedge or thinning interior branches so they don't' cross to create a specimen rose. The buds are a bicolor pink and dark pink that fade to pink and white. Hardy in Zones 5-11, this wondrous rose starts blooming in late spring and continues off and on until frost. Harvest fully formed buds or just opened flowers, individually or in stem clusters for the best effect.
Using fresh herbs is an easy quick way to make decorative arrangements like our wreath above. You can take our online wreath making class, Wreath Making 1 2 3 and see for yourself. You can also use your herbs for dried arrangements, wreaths, swags and other crafty projects. Here are a few pointers for drying your herbs.
Gather herbs before it gets hot. Cut the stems on the long side.
Tie in small bundles of 3-4 stems, so that can be easily separated later.
If there are flower heads with small or wimpy stems, wire them with a floral pick and hang the picks.
Hang in a warm, dry place that is not in direct sunlight.
Take them down as soon as they are crispy.
Shake GENTLY before storing.
Store in a box with tissue separating layers. If you have a lot of different colors, store all one hue in a box together.
Put where it will be safe from mice or other pests.
Wreath Making and Flower Arranging are not the only craft projects you can use your herbs for. Incorporate dropped petals or small pieces into a bar of soap or maybe make a candle.
You might also like our Crafter's Herb Garden Six Pack for Zones 5-11.
Additional plants to consider
The plants listed here make excellent additions to this collection. Click through to read more about them or add them to your order.