Growing & using Twilight Butterlfy Bush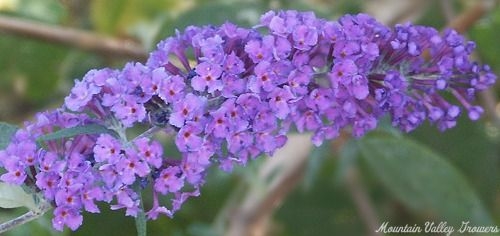 Twilight Butterfly Bush, introduced by Mountain Valley Growers in 1998, is a stunning, dark-purple flowering shrub of moderate height.
Not as dark as Black Knight Butterfly Bush, nor as tall, Twilight is a better choice for the smaller garden. Still a good six to eight feet in height, Twilight Butterfly Bush has proven to be a wonderful addition to our Butterfly Bush selection. It has adapted extremely well to the intense summer heat of our semi-arid climate.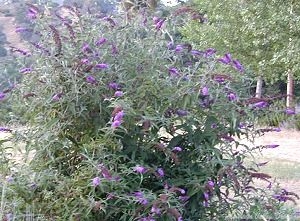 This three year old hedge is getting ready to bloom. It is dense enough to shield the nursery from the busy street on the other side.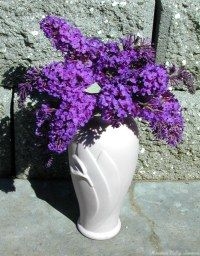 When picked early in the bloom cycle, Twilight Butterfly Bush makes a remarkably good fresh or dried flower. Flowers, which are so important for pollination and controlling detrimental insects, will also attract beneficial insects.
Twilight Butterfly Bush makes a great addition to our Wildlife Herb Garden Six Pack and to our Crafter's Herb Garden Six Pack.
It may also be included in our Butterfly Attractor 36-Plant Assortment, available in either 6 plants each of 6 different varieties, or 3 plants each of 12 different varieties.
This plant is sometimes available in plug trays. These trays hold 128 of all the same plant. They are a great low cost way to fill a lot of space. Each cell is 3/4 of inch by an inch. Check here to see if Twilight Butterfly Bush Plug Trays are available.
Growing and Using Butterfly Bushes