Growing & using Garden Sage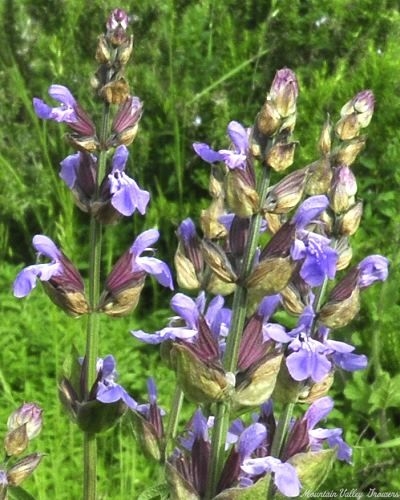 Garden Sage rivals many of its ornamental Salvia cousins during its three to four week bloom period. And, of course, nothing says stuffing like good old Garden Sage.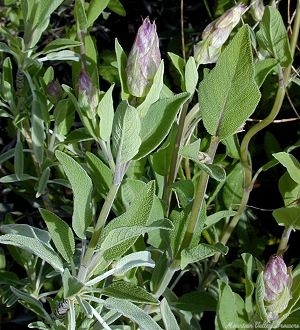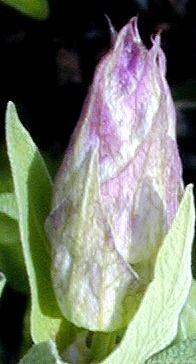 The buds of Garden Sage are reminiscent of oddly shaped Easter Eggs. They look like someone took a wax crayon and made bands, dipped the egg in pale green, removed the wax and dipped it in pale purple. Shooting up to three feet with its blooms, Garden Sage is both a culinary and ornamental delight. Sharing its color for three to four weeks in early spring, it is one of the prettiest of all Salvias. It makes a great informal hedge or drift. Garden Sage flowers can be used as a garnish or as an addition to fresh bouquets.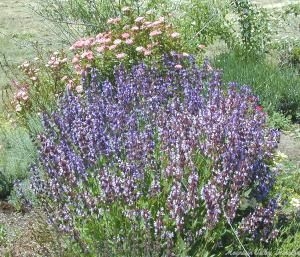 There are several variations of Culinary Garden Sage. These include Golden Garden Sage, which has green and gold irregularly variegated leaves; Purple Garden Sage, (S. officinalis purpurea) which has dark purple new leaves that turn a soft green with age; Ttricolor Garden Sage, which is variegated cream, green and pink; Berggarten Garden Sage, which has a large oval leaf; and Window Box Garden Sage which is particularly nice in a container. Window Box Garden Sage is a recent Mountain Valley Growers' introduction and is the only one of these that replicates the splendid flowers of Garden Sage. All of these have the same flavor of Garden Sage. The Golden and the Tricolor Sages may be a tad less winter hardy than the zone 5 rating assigned to common Garden Sage.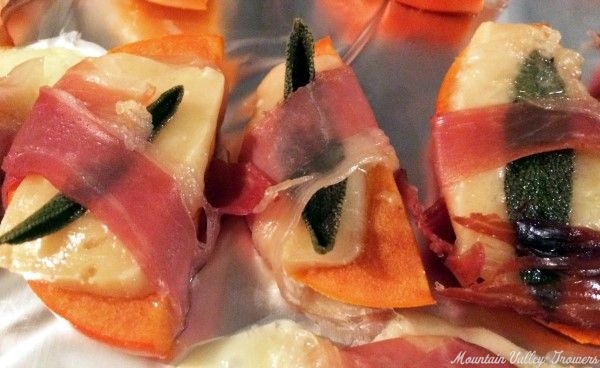 Culinary Sages are best used fresh like in the appetizer above which combines persimmon, brie, a sage leaf and prosciutto. Once lightly broiled the sage lends its flavorful oils to the dish. Sages can also be dried. For drying large amounts of leaves, wait until after the plants have grown back after pruning blooms. Wash the plants in the garden with a fine spray of water the night before; and the next morning, when the dew has dried, cut stems as long as possible without cutting into old wood. Hang these in bunches of three of four in a dark, dry, clean area. As soon as they are crispy dry, strip the leaves (whole, if possible) and seal them in an airtight container placed out of direct light.
The flavor should remain potent for three or four months, hopefully---at least until spring brings fresh, tender leaves again. Besides the traditional use in stuffing, Sage is good with pork, sausage, other meats, and cheese. It is often combined with thyme and used with beans and in soups. Use Sage with fruits in vinegars; if the vinegar is a light colored elixir, try one of the variegated forms. Grind dried sage with dried rosemary and dried oregano for a nice Italian seasoning. The flowers make an attractive garnish in salads, butters, soft cheeses, and ice cubes. **
Fresh picked "hands" of Sage tips can be used to make wreaths or tussie-mussies. They dry well and have that heavenly Sage fragrance. Just one more reason to give Garden Sage a good size space in your garden.
Garden Sage is one of the six plants chosen to be in our Kitchen Herb Garden Six Pack and is often included in our Basic Culinary Herb 36-Plant Assortment, available in either 6 plants each of 6 different varieties, or 3 plants each of 12 different varieties.
This plant is sometimes available in plug trays. These trays hold 128 of all the same plant. They are a great low cost way to fill a lot of space. Each cell is 3/4 of inch by an inch. Check here to see if Garden Sage Plug Trays are available.