About our plants
Are all of your plants organic?
Yes! Every plant we sell is certified organic by the USDA. Our promise is "All organic, all the time!"
If you'd like, you can download a copy of our most recent organic certificate.
Just got a box of new plants?
Check out our tips on getting started with your plants!
Is your nursery open to the public?
As much as we love our customers, our nursery is not open to the public. Our nursery is really a propagation facility and does not resemble the normal nursery, no little red wagons, not even a cash register!
Do you sell seeds?
No, we only sell living rooted and potted plants.
Do you sell dried or cut herbs?
No, we only sell live herb plants, live vegetable plants and live ornamental plants.
Do you sell wholesale?
We are sorry but we do not sell wholesale.
How big are the plants?
Our pots are 2 3/4 inches by 2 3/4 inches. For some reason, the nursery trade calls these three-inch pots. The height of our box is 8 inches and, since the plants travel sitting straight up in the box, the total height of pot and plant is never more than that.
Our plug trays each contain 128 plugs which are approximately 3/4 of an inch in diameter and one inch in depth. The height depends on the variety but is usually not more than a half inch.
What is a plug tray?
Plug trays are 128 of all the same plant. Each plant is in its own mini pot (or cell) that is part of the larger tray. This type of propagation allows for easy removal of individual plants with no trauma to the root zone. The result is a healthier plant that grows more quickly.
How do you grow your plug trays?
Most of our plug trays are started from cuttings that are taken from larger plants. This cloning insures that we provide you with the proper variety. Cuttings are taken when the time is right to cut each plant. This could be once a year or several times a year. Therefore, different plug trays are available at different times throughout the year. All plants are USDA certified organic.
Should I purchase pots or plug trays?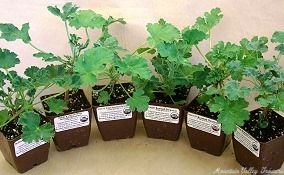 All varieties are available in 2 3/4 inch pots. The nursery industry calls this size a 3 inch pot.
The plants range in height from one-inch for something like a creeping thyme to four inches for something like a scented geranium or other hardwood plant.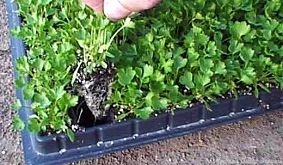 Some varieties are also available in plug trays. A lot of our ground cover thymes and creeping oreganos are grown in plug trays. Most of our plug trays are started from cuttings that are taken from larger plants. This cloning insures that we provide you with the proper variety. Cuttings are taken when the time is right to cut each plant. This could be once a year or several times a year. Therefore, different plug trays are available at different times throughout the year.If you need a lot of one kind of plant, this is the way to go. Plugs are 3/4 of an inch by about an inch in root zone. The height depends on the plant but is never more than 1/2 inch. Small but mighty!
How much do your plants cost?
3 INCH POTS Plants range in price from $5.45 to $23.95. HERB GARDEN SIX PACKS: $44.95 HERB ASSORTMENT 36 PACKS: $179.00 each
PLUG TRAYS 128 plants all the same kind of plant. Each plug is between $0.90 and $1.50 per plug depending on the variety. We include 8 plugs free.
Ordering questions
What is the minimum number of plants I can purchase?
The minimum plant order for three-inch pots is six plants. All six plants do not have to be the same and, after 6, you may order any number. Plants do NOT have to be ordered in groups of six! You can purchase any six plants you want.
The minimum order for plug trays is one tray. But you may want to order two since the box holds two and the shipping is the same for one or two.
Do I have to buy all six of the same plant?
Absolutely not! Mix them up or order all the same thing. You choose what you want.
Can I change my order after I place it online?
We are unable to change your order after it is placed. However, we can cancel your order for you.
I need to cancel my order. Is this a problem?
Not at all, cancellations can be made up to the week before your order is due to be shipped. If you wish to cancel an order, please email us at customerservice@mountainvalleygrowers.com at least one week before your order is set to ship.
Will I get a receipt?
Once your order has been placed, you will automatically receive a receipt in your inbox. Save this receipt! It will have your order ID number. It is necessary to use this number on all correspondence. We may not be able to find your order if you do not supply your order ID number. If you do not receive an automatic receipt, either your email address has been typed incorrectly, your spam filter caught it, or the order did not go through. (If you have spam filters on your email, it will be necessary to add orders@mountainvalleygrowers.com to your contacts.)
Will I get a tracking number?
Yes, we will email you a UPS tracking number so you will know when the order should arrive.
Can you ship my order to a P.O. Box?
Unfortunately, we cannot. It is necessary to ship to a physical street address; UPS cannot deliver packages to a P.O. Box.
Do I have to be present for delivery?
Usually, yes. We can only guarantee the package up to the first attempted delivery. If UPS requires a signature upon delivery, it is your responsibility to ensure someone is available at the delivery address to receive the package.
If I order herbs now, can I have them shipped on a future date of my choosing?
We are more than happy to ship when it is convenient for you as long as we know the plants will still be in good condition. Enter your requested ship date in the comment box on the order form.
When will my plants arrive? Why are my shipping options limited?
Shipping live plants is a little different than shipping toasters. Live plants can be randomly inspected by the USDA and this may or may not delay the box one day. Also, because UPS does not count the day the plants leave as part of its shipping, a 2-day package that leaves on Monday arrives on Wednesday.
Three-inch pot delivery is by UPS Ground service to 7 western states: AZ, CA, ID, NV, OR, UT, and WA. All of these western states, except California, may also choose the option for 2 day air delivery during checkout. All other US destinations must travel UPS 2-Day.
Plug tray delivery is by ground to 7 western states: AZ, CA, NV, OR, UT, WA. All other US destinations travel UPS 2-Day.
Our shipping schedule usually runs about like this:
California live plant packages are sent out on Monday, Tuesday or Wednesday. California orders usually arrive next day or within two days after they are shipped by ground.
2-day air packages and most other ground packages are sent out on Monday or Tuesday.
Long-distance ground packages (like Hawaii or Alaska) are sent out only on Monday.
Orders to Hawaii usually take an extra day to arrive and 2 day air is the only option to get the order there by the end of the week.
Orders are shipped on an ASAP basis, usually the week after we receive your order. High volume or adverse weather conditions may delay your order.
Because our nursery is very rural, we do not offer overnight delivery service.
Shipping is expensive. How can I take best advantage of my shipping cost?
UPS charges by the box. For 3-inch pots, we have boxes that hold 6, 12, 18, 24 and 36 pots. There is only one shipping fee for a 12 pack, for instance. If you choose 7 pots, they go into a 12 pack box and you get charged as though there were 12 plants in the box. Which means you can ship 12 plants for the same price as 7, 18 plants for the same price as 13, etc. With UPS, the first pound or, in our case, the first 6 pots, is the most expensive per plant and the 36 pack is the least expensive per plant. After 36 plants, it starts over again with a 6, 12, 18, or 24 pack.
Our plug tray boxes hold 2 plug trays, so you can ship 2 trays for the price of 1.
Business addresses are often less expensive to ship to than residential addresses.
It is freezing or very hot here. Can I still get my plants shipped right away?
We don't send plants into areas that are experiencing extreme temperatures (freezing or extremely hot) unless you choose to waive your warranty. But, we are happy to back order them for the appropriate time in spring which is our default for shipping from January until July when all areas of the country can recieve plants with a warranty. You may choose to waive your warranty during check out and have in stock plants sent at any time. (This applies to heat as well as cold.)
When you waive your warranty, this means the only thing we guarantee is that the plants you receive are the plants you ordered, and our usual 7-day shipping guarantee does not apply.
How do spring pre-orders for three inch pots work?
Please note: We only take backorders for pots. We cannot take backorders for plug trays.
In January, we begin taking backorders for three-inch pots to be delivered in spring. If you want plants right away during this period, please make sure you don't have any backordered pots in your cart.
Early spring orders to cold winter areas will receive an email order acknowledgment indicating the expected spring ship date. If you would like to know when we begin gauranteed shipping to your area, email us with your zip code and we will check for you.
If you have a backorder pending and your email address changes, please let us know, so we may inform you of any problems or changes that may arise concerning your order.
We do not ship to areas that are experiencing extreme temperatures (freezing or extremely hot) or on a route that has extreme temperatures. You may choose to waive your guarantee during checkout to receive plants prior to the time we would normally start shipping in spring.
When you waive your warranty, this means the only thing we guarantee is that the plants you receive are the plants you ordered, and our usual 7-day shipping guarantee does not apply.
We ship year round with a warranty to CA, HI, and FL.
Do you take backorders for plug trays? What if what I want is not in stock?
We do not take back orders or pre-orders for plug trays. The plants are very small and outgrow their trays too quickly for us to hold them. If the variety you are looking for is not in stock, please sign up to be notified when we have more. You can do this on the page of the plant you are interested in. We normally update inventory and send out notifications at the end of every week.
If you receive a notification of an item being in stock and find it is again out-of-stock by the time you get to the site to order, it is because we produce a limited amount each week and someone else beat you to it. If you are still interested, please re-enter your email address to be notified of the next time your desired item is in-stock.
What is the guarantee for my plants?
Our guarantee is a shipping guarantee. If you have a problem that occurred during shipping, we ask that you please email us within 7 days of the plants' arrival and include a description of the issue and a photo of the way the plants arrived. We do not guarantee plants once they are removed from their containers.
We do not guarantee packages that are not delivered on the first try by UPS. Riding back and forth in the delivery vehicle or spending the weekend in the warehouse because you are not at home when the carrier arrived is not covered. We are more than willing to work with you on arrival dates and can ship the package to any non-Post Office Box address you choose.
If you instruct UPS to leave the package and it goes missing, you may have recourse with UPS, but we will not cover the loss.
Also not covered are packages with incorrect or incomplete addresses. Your shipping label is created from the address you enter on your order form during checkout. If the carrier is unable to deliver your package and it is returned to us, the plants will be dead upon arrival and we will not refund your money or send new plants.
Plants are not returnable.
Please note that we are not responsible for shipments lost or damaged because of Terrorism or Acts of God (such as sudden flash floods or tornadoes or pandemics) or delay caused by the inspection of the box by the USDA.
We do not cover shipping costs due to UPS delays but you may file a claim with UPS. To submit a claim for shipping costs, go to UPS.com and paste your tracking number in the box that says "TRACK". On the next screen, you will find a button that says "file a claim". They will send us paperwork to fill out. This process usually takes about two weeks.
I am interested in the 36 Pack Assortments, can you tell me what plants come with them?
Assortments will have different plants at different times of year. Our trained staff picks plants that are at their peak at the time of your order. It is not possible to inform you ahead of time as to the make up of the box.
We do reserve the right to substitute plants in our Herb Garden Six Packs if something is not in stock.
Can you send plants to South America/Canada/outside the US?
No, unfortunately agricultural restrictions across borders make delays that are deadly to live plants. We ship to all 50 United States.
Can you send my orders to a P.O. box? What about an apartment building?
It is necessary to use your physical street address; UPS does not deliver to P.O. boxes. If the package is to be delivered to an apartment, UPS may automatically require a signature. (This could result in your package not being delivered if you are not home to sign for it. If this happens, we can't guarantee your plants will be delivered in good shape.) Please make sure to take this into consideration when you decide where to have your order delivered.
Please make sure to double check your address. UPS charges us a change fee if even one digit in your address is incorrect and we reserve the right to charge your card for this fee.
What forms of payment do you take?
We accept MasterCard, Visa, Discover and American Express.
Caring for your new plants
How do I care for my pots upon arrival?
Your box will have "Getting Started with your Plants" information which contains basic unpacking and care information. A QR code on this card will take you to more in depth growing information on our website. If you have ordered a Specialty Herb Garden, there will also be a separate set of instructions specific to that garden.
How do I care for my plug trays upon arrival?
Plug Trays should be unpacked promptly, set outside, and watered. They can either be planted directly into moist ground or into containers with high quality potting soil. These small plants dry out quickly and should be checked often to insure the plug's root ball remains moist. It can take a month or more for a new plant to become established into the soil around it. Until this happens, the plant can only use the moisture in the root ball. If the ground around the root ball dries out, the dry ground will take the moisture from the root ball. Once the small plant puts roots out into the soil around it, the moisture and nutrients from the ground become available to it.
If you are trying to plant in the heat of summer, you may need to water more often than you think. Physically check the soil often throughout the day to make sure your new plants are not drying out. If you are not removing plants from the plug trays for a while, make sure they stay watered.
Herb and perennial plant use and cultural legend
What do those designations on our plants really mean? Let's dive in.
Culinary
The culinary designation means the plant is edible and has merit as a flavoring or food. Edible plants have edible flowers. However, they are not always of culinary value. Culinary varieties usually need direct sun for at least 6 hours per day. When harvesting, cut off leaves and branches. This will encourage bushy growth. Never cut more than one third of a healthy plant at a time. Periodic cutting is necessary to maintain cooking herbs in prime condition.
Butterfly
These plants are known to attract butterflies by providing them with shelter, food or nectar.
Deciduous
Deciduous plants are those whose leaves are lost in the fall or winter and whose growth resumes on woody branches the following spring. Tender deciduous plants may loose branches or be completely killed in cold weather.
Dried flower
Plants designated Dried Flower have flowers or seed heads useful in dried arrangements, wreaths and garlands. Most can be easily air dried. Plants designated dried flower and fragrant can be used in decorative potpourris.
Evergreen
Evergreen plants retain their leaves year round. Although an herb may be an evergreen, it can also be tender. Be sure not to use this designation as a measure of hardiness.
Ground cover
The Ground Cover designation indicates a plant which will trail or sprawl and cover a sizable amount of area.
Full sun
All plants can stand at least a little shade but not all can withstand strong sun. This group will thrive in full, hot sun.
Herbaceous
Herbaceous plants die back to the ground in winter. A Tender Herbaceous Plant will die to the crown in winter and be killed completely if the ground freezes. Hardy Herbaceous Plants will survive ground freezes. In warm climates herbaceous plants may be evergreen.
Hummingbird plants
These plants are known to attract hummingbirds by providing them shelter, food or nectar.
Medicinal
These plants are listed in A Modern Herbal; by M. Grieve, and others, as having medicinal value. Don't try to be your own doctor, consult a professional before using any Herb medicinally.
Ornamental
Those plants whose habits are graceful, decorative or otherwise contribute to the landscape.
Partial shade/Part sun
This group needs filtered sun for optimum health.
Perennial
Perennial plants live three years or longer. All plants are perennials unless otherwise stated in the hardiness column.
Water conserving
Modern landscaping demands plants that are water thrifty. Although mature plants require little water, irrigate new plants regularly.