Growing & using Grey Santolina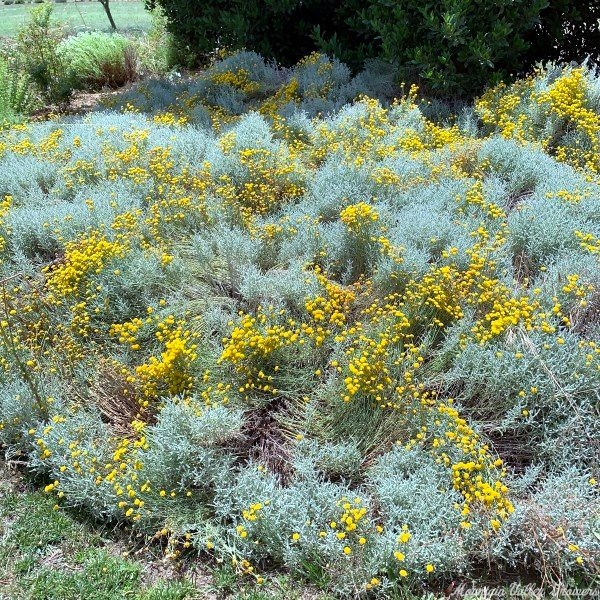 We like our Gray Santolina, sometimes called Lavender Cotton, wild and woolly. Gray Santolina naturally spreads out beneath these 30 foot tall Greek Bay Trees in bloom. This patch started out as three small plants about 20 years ago. We sometimes take cuttings from it, occasionally give it water but, basically, we just ignore it. If a naturlized look doesn't suit your landscape, Gray Santolina is easily sheared for a more formal look.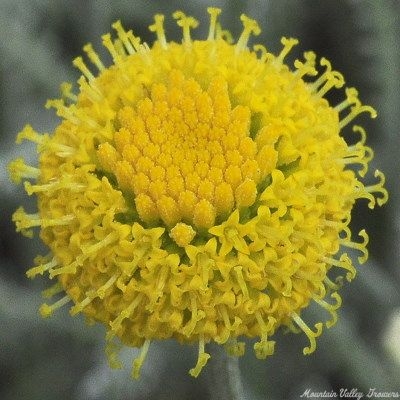 The cute little gold buttons of Gray Santolina can be dried for arrangements or wreaths.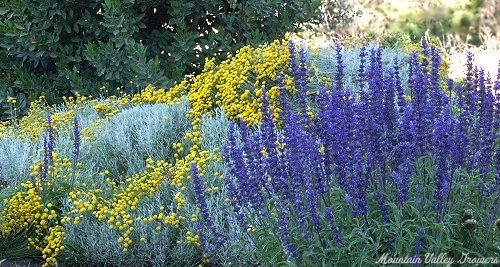 Glorious purple flowering Victoria Sage makes the perfect neighbor for the golden flowers of this Gray Santolina.
A more traditional use for Gray and Green Santolina is in knot gardens. Knot Gardens are a lot of work and I have always admired those stalwart souls who measure, plant and prune, prune, prune. Knot Gardens are illusionary, employing different colors of plants to form the different sections of rope causing the eye to see the over and under of the knot. Knot Gardens are really best viewed from a second or higher story balcony on a balmy day in spring, but, even covered with a light snow they are definitely magical.
All Knot Gardens are parterres, but not all parterres form a knot. The name parterre (pronounced PAR - tare) is from Old French 'par terre' literally translated 'on the ground'. It is a flower garden having the beds and paths arranged to form a pattern. This precise and informative definition comes to us from the site of Lakewold Gardens.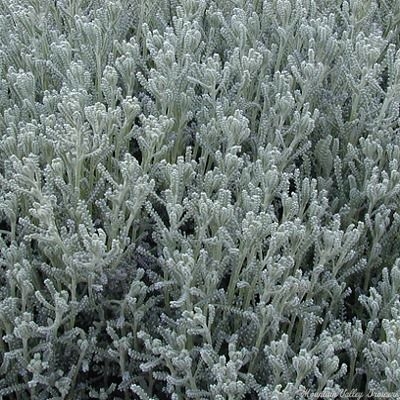 This plant is often available in plug trays. These trays hold 128 of all the same plant. They are a great low cost way to fill a lot of space. Each cell is 3/4 of inch by an inch. Check here to see if Gray Santolina Plug Trays are available.