Growing & using Hidcote Giant Lavender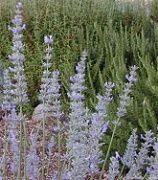 Medium to light purple flowers on long wands make Hidcote Giant very different from the very small,true English variety called simply Hidcote Lavender. Hidcote Giant Lavender is a tall hybrid that is a much better choice than Hidcote for hot summer areas.
Hidcote Giant Lavender is one of six plants chosen for our Crafter's Herb Garden Six Pack Zones 8-11. It would also make a great addition to our Zone 5-11 Fragrant Herb Garden Six Pack.
This plant is often available in plug trays. These trays hold 128 of all the same plant. They are a great low cost way to fill a lot of space. Each cell is 3/4 of inch by an inch. Check here to see if Hidcote Giant Lavender Plug Trays are available.
LAVENDER 1-2-3: Choosing, Planting, Growing, Pruning, Harvesting and Using lavender plants