Growing & using Magic Carrousel Miniature Rose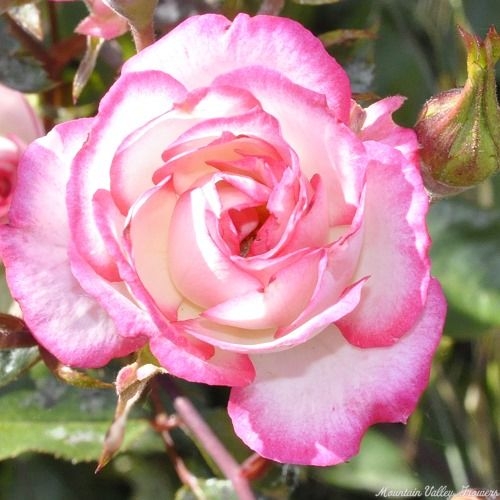 This row is about 10 feet long, 5 feet wide and 4 feet high. It was planted with 3 of our 3-inch pots and is about eight years old. It is sheared at least every two years.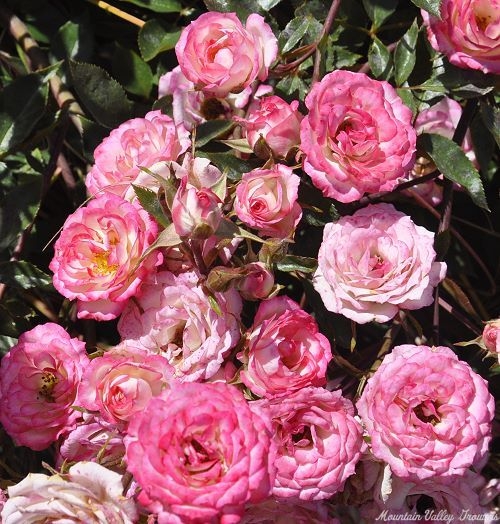 Like all roses, miniature roses are sun loving and fairly drought resistant. Plant in well drained soil and fertilize with an organic fertilizer in the spring. Dead canes can be pruned anytime but most pruning occurs in the fall when we shape the plant to the desirable height and width. All rose petals are edible, if grown organically, and make attractive garnishes for salads. They can be added after cooking to almost any dish. Whole buds can be used to decorate cakes or other confections. Before using any flower in food, a sample flower should be pulled apart and inspected for insects.
Seventeenth Century Herb Tea
Still tasty today!
**Rose leaves were often included in teas in times past, like in this one from the 1600's.
1 Rosemary (leaves)
2 Lemon Balm (leaves)
6 Rose (leaves)
A handful of Rose Petals
Chop finely (once dried), and make as normal.
(Steeped in water brought to a boil).
Try this warm or iced. A true blast from the past.
For more period teas check out
A Garden of Miracles by Jill Davies.