Growing & using Creeping Golden Marjoram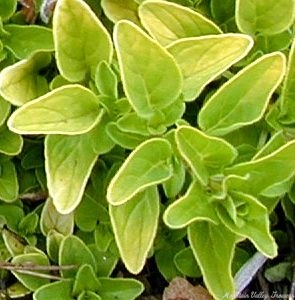 Looking much like other Origanum vulgare species, Creeping Golden Marjoram is different because it flowers only occasionally. Mowing helps to keep it flat and soft to walk on.
Creeping Golden Marjoram makes a tough and attractive ground cover and lawn substitute. In the picture above, the two Creeping Golden Marjorams (planted from our three inch pots) are about four months old and have already reached about eight inches in diameter.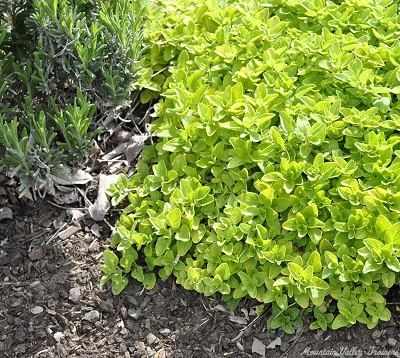 Creeping Golden Marjoram leaves are a lovely chartreuse in spring and fall.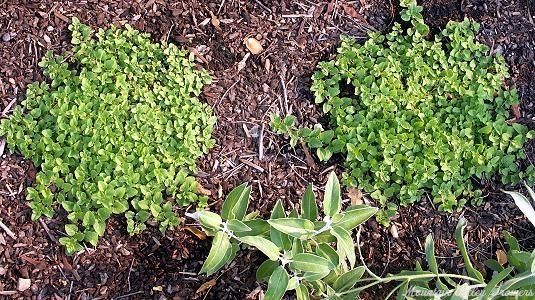 Creeping Golden Marjoram leaves turn greener during summer.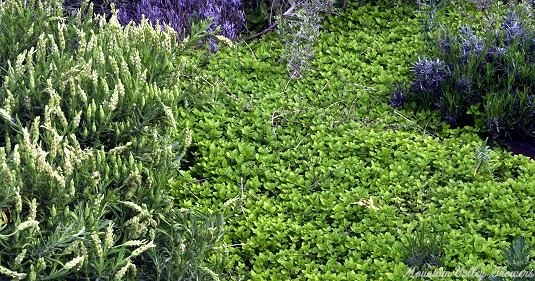 This three year old swath of Creeping Golden Marjoram flows under Yellow Lavender and highlights the gray of Sachet Lavender in the rear. This "river" of oregano is about 10 feet long and about 4 feet wide in the front. Planting in a partially shady spot (about five hours or so of sun a day) really helps with growth in our hot summers. However, the shade does make it grow taller and we do have to cut it back to about two inches twice a year or it would grow over everything.
Creeping Golden Marjoram is often included along with Mounding Marjoram and Creeping Oregano in our Alternative Lawn 36-Plant Assortment, available in either 6 plants each of 6 different varieties, or 3 plants each of 12 different varieties.
This plant is often available in plug trays. These trays hold 128 of all the same plant. They are a great low cost way to fill a lot of space. Each cell is 3/4 of inch by an inch. Check here to see if Creeping Golden Marjoram Plug Trays are available.
More about Ground Cover Oreganos