Growing & using Yellow Lavender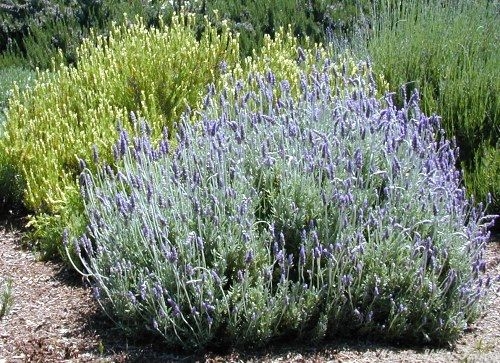 The "rabbit-ear" chiffon yellow blooms of the rare **Yellow Lavender** present themselves at the same time as other early lavenders like this purple flowered **[French Lavender](/organic-plants/lavandula-dentata-french-lavender/)**. The gray leaves and purple flowers of French Lavender make a striking contrast to the yellow-green leaves and flowers of Yellow Lavender.
Yellow Lavender is sometimes referred to as green lavender and has been documented back to the 17th century. Thought to originate in the Portuguese archipelago Madeira, Yellow Lavender prefers warm summers and mild winters.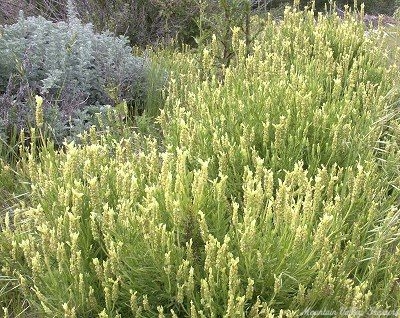 This Yellow Lavender has naturalized in our field along with the silvery Powis Castle Artemisia to its left.
Even though extremely drought tolerant, keeping the plant properly hydrated keeps branches from dying out. Like all lavenders, Yellow Lavender should be pruned by at least a third after it blooms in early summer. This helps to maintain a tidier appearance.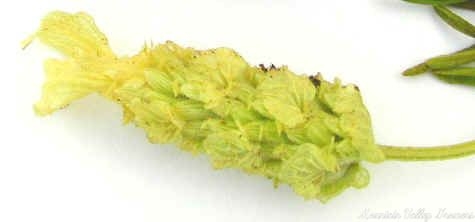 If you feel Lavender should be purple and smell like soap, then this plant is not for you. Big and bold describes the color, shape and fragrance of Yellow Lavender. Sun beaming through the leaves highlights just how golden this plant can look.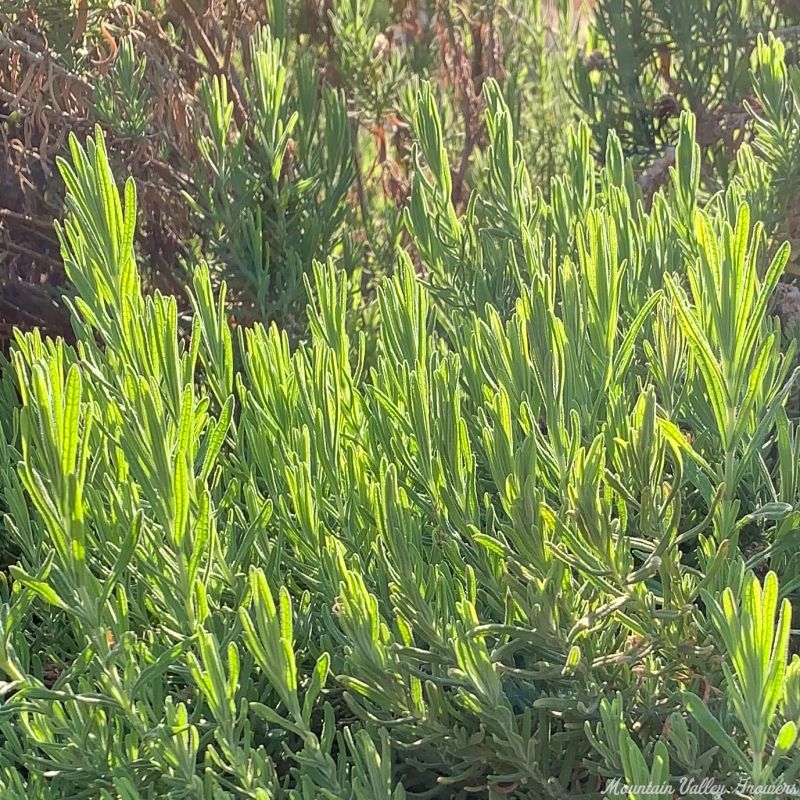 Yellow Lavender can be used to cook with. Robert Kourik writes in his book, The Lavender Garden, that he feels it is the best of all lavenders for grilling, herb breads and hearty dishes. Its piney aroma translates into a rosemary flavor with a hint of sweetness.
Yellow Lavender makes a great addition to our Zone 8 Fragrant Herb Garden Six Pack.
This plant is sometimes available in plug trays. These trays hold 128 of all the same plant. They are a great low cost way to fill a lot of space. Each cell is 3/4 of inch by an inch. Check here to see if Yellow Lavender Plug Trays are available.
LAVENDER 1-2-3: Choosing, Planting, Growing, Pruning, Harvesting and Using lavender plants