Growing & using Hidcote Lavender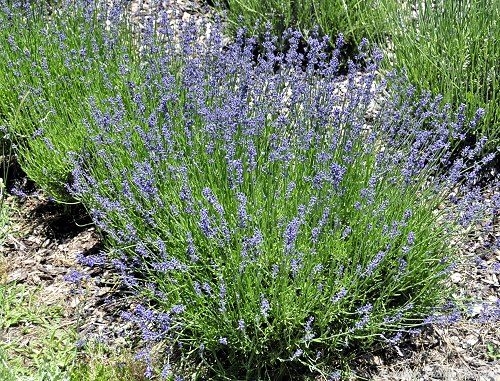 Hidcote English Lavender has long been one of the most sought after Lavandula angustifolia varieties. According to The Genus Lavandula, while this Lavender was named after the estate of Lawrence Johnston, there are no records which verify that this plant actually started out life in his garden known as Hidcote Bartrim. It is more likely that he brought it with him from his estate in France in the 1920's. It is also sometimes referred to as Hidcote Blue or Hidcote Purple.
Hidcote English Lavender is one of the darkest flowered of the Lavandula angustifolia group. Often Hidcote Lavender plants from other sources are propagated by seed that does not come true to the original plant. It can be very difficult to locate the proper dark purple Hidcote English Lavender. Our Hidcote plants are always propagated by cuttings so their characteristics remain true to the original plant.
Like all Lavandula angustifolias, Hidcote English Lavender grows better where summers are in the 80's rather than the 90's. And, in keeping with its species, it is also slow growing.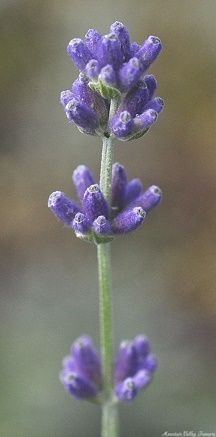 Hidcote Giant Lavender (a Lavandula x intermedia variety) was also named after Hidcote Bartrim but is a completely different plant with lighter flowers. It tolerates hotter summers better and gets much larger.
Hidcote English Lavender is one of the six plants chosen to be in our English Cottage Herb Garden Six Pack.
Hidcote English Lavender also makes a great addition to our Zone 5-11 Fragrant Herb Garden Six Pack.
This plant is often available in plug trays. These trays hold 128 of all the same plant. They are a great low cost way to fill a lot of space. Each cell is 3/4 of inch by an inch. Check here to see if Hidcote English Lavender Plug Trays are available.
LAVENDER 1-2-3: Choosing, Planting, Growing, Pruning, Harvesting and Using lavender plants