Growing & using Kew Red Spanish Lavender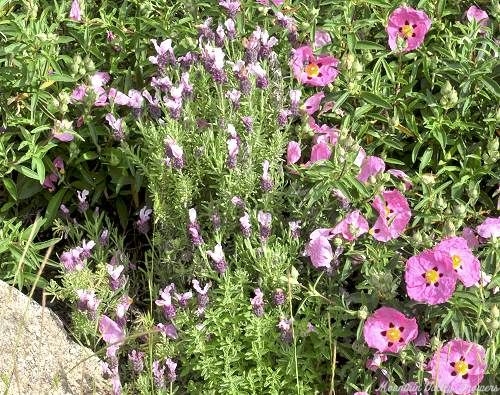 Native to the Mediterranean region and North Africa, Kew Red Spanish Lavender (like all zone 8 Lavenders) seems to be a more suitable lavender choice for those who garden in hot humid climates. The antiseptic, piney fragrance of Spanish Lavender makes it an exceptionally fragrant landscape plant but not the first choice for use in cooking. English Lavenders, both Lavandula angustifolias and Lavandula x intermedias, are preferred in the kitchen.
Planted in a Mediterranean garden with Orchid Rockrose and Cretan Oregano, this young Kew Red Spanish Lavender Plant gets water about once a week in the summer and is in full sun. Of course, watering depends on the location, soil texture and humidity of each garden.
Spanish Lavenders are probably what the ancient Greeks and Romans used to scent their bath water. Indeed the word Lavender is from Latin lavare (to wash)_. Spanish Lavender is often referred to in older publications as French Lavender (which, today, is how we refer to L. dentata).
Kew Red Spanish Lavender makes a great addition to our Zone 8 Fragrant Herb Garden Six Pack.
These plants are sometimes available in plug trays. These trays hold 128 of all the same plant. They are a great low cost way to fill a lot of space. Each cell is 3/4 of inch by an inch. Check here to see if Kew Red Spanish Lavender Plug Trays are available.
LAVENDER 1-2-3: Choosing, Planting, Growing, Pruning, Harvesting and Using lavender plants