Growing & using English Lavender
With a beautiful scent and an elegant form, nothing adds more to a landscape than English Lavender. There are hundreds of varieties Of English Lavender or Lavandula angustifolias. Fast growing, long blooming, long lived, hardy, sun and drought tolerant qualities are heaven sent characteristics for western gardeners. Not only is English Lavender a superb fragrant ornamental but it is also culinary and medicinal. Below is one of our favorite sorbets using English Lavender. Any of the Lavandula angustifolias or the Lavandula x intermedias may also be used. Try a combination of different lavenders to make a unique blend.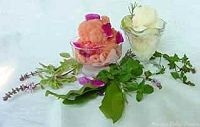 Lavender Sorbet
A summer treat!
3 cups water
1/2 cup sugar
9-10 stem heads of fresh lavender flowers (or 2 tablespoons of dried lavender)
Freshly squeezed juice of 1 lemon
If using fresh lavender:
With thumb and forefinger, pull the flowers from the stems (discarding stems). If using dried lavender you won't need this step.
Combine lavender flowers and sugar in a food processor and pulverize completely, about 1 minute. Bring the water to a boil, remove pan from heat and add the sugar/lavender mixture, stirring to dissolve sugar. Cover with a lid and let cool for at least 30 minutes. Strain out flowers through a sieve, pressing flowers to get out any remaining liquid. Add the lemon juice and chill in the refrigerator for at least 2 hours, then freeze in sorbet or ice cream mixer.
(From Fabulous Herb & Flower Sorbets by Jim Long)
You might try either Provence Lavender or Hidcote Giant Lavender. They have the same flower color, fragrance and growth patterns.
LAVENDER 1-2-3: Choosing, Planting, Growing, Pruning, Harvesting and Using lavender plants