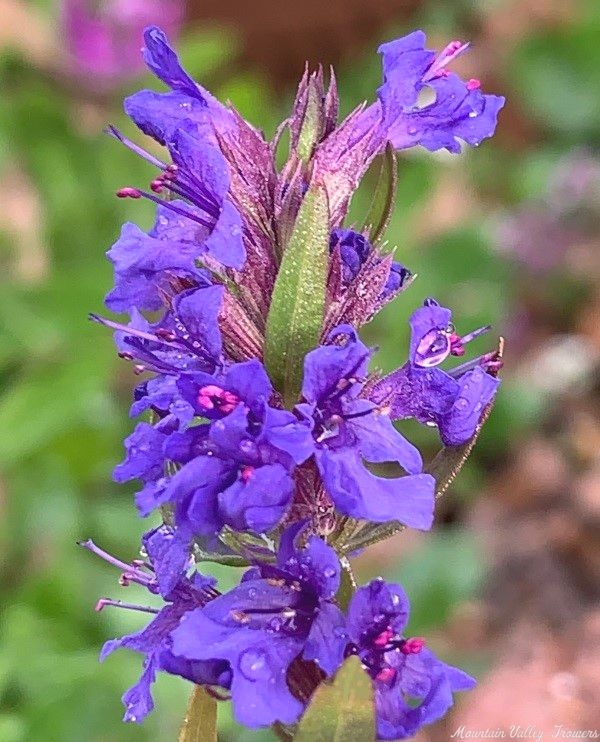 Hyssop is a long blooming plant with lovely bluish-purple flowers. Hyssop looks good planted with Tricolor Sage, Lavenders and Catmint. Bees and butterflies are attracted to both blue and Pink Hyssop.
When Hyssop finishes blooming, shear back the flower stem and any untidy branches to create a welcome green globe. This can be done in late summer and often Hyssop will rebloom over a mild winter.
Because it can be sheared, Hyssop makes a nice informal edging plant.
This Hyssop is not thought to be the hyssop of the Bible, because it is not native to the region. That honor is given to Origanum maru.
Dried Hyssop has been used sparingly as a minty culinary addition to soups, stews and herbal teas. Fresh leaves can be added to soft cheeses, butters, sauces and dips. Experiment with small amounts because it can be bitter. Flowers are milder flavored and can be used as a garnish.
Hyssop is included in our English Cottage Herb Garden Six Pack and makes a great addition to our Wildlife Herb Garden Six Pack.
This plant is sometimes available in a plug tray. These trays hold 128 of all the same plant. They are a great low cost way to fill a lot of space. Each cell is 3/4 of inch by an inch. Check here to see if Hyssop Plug Trays are available.