Growing & using Conehead Thyme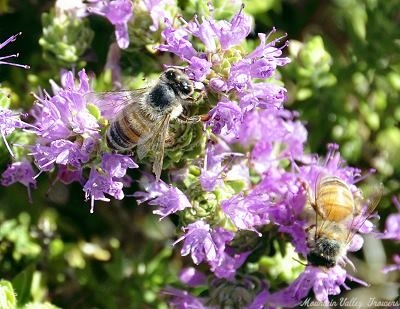 Like thyme, Conehead Thyme is extremely attractive to bees. They know what's good!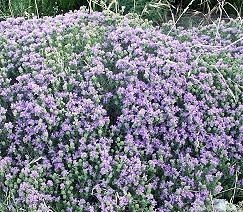 Conehead Thyme is completely covered with incredibly spicy purple blossoms.
Garnish salsa verde or guacamole with the hot little flowers of Conehead Thyme. Or, add the flowers with other chopped herbs like Basil and add to salad dressings.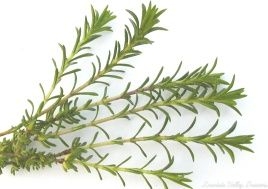 You can see why the word thyme is associated with this plant. Look at those little needles which are definitely reminiscent of English Thyme. And, the flavor is like thyme with the heat turned up.
Conehead Thyme grows slowly into a two foot wide mound that eventually reaches one to three feet in height. The leaves are quite hot and are traditionally used as a component in the Middle Eastern spice blend called Zatar. This blend can also include Pink Savory and Syrian Oregano.
Zatar
Zatar mixed with oil makes a great dipping sauce!
1/2 cup dried Syrian Oregano
1/4 cup imported edible ground sumac (make sure to get the edible kind from a Middle Eastern market)
2 tablespoons roasted Sesame Seeds
1/4 teaspoon sea salt
Black Pepper to taste
Pita Bread
2/3 Cup Olive oil
In a small bowl add the first five ingredients and stir together to combine. Seal in a glass jar and store out of the light. Makes about 2/3 cup.
Preheat oven to 250 degrees.
Brush pita with olive oil and sprinkle with Zatar and warm in the oven. Or mix equal parts Zatar and Olive Oil and spread over bread and then warm.
From Carol Saville's excellent book Exotic Herbs.
Conehead Thyme has, in the past, been labeled Thymbra capitata and Saturjea capitata. However, the correct botanic name for this plant is now Cordiothymus capitatus.
Conehead Thyme is one of the six plants chosen to be in our Edible Flower Herb Garden.
This plant is sometimes available in plug trays. These trays hold 128 of all the same plant. They are a great low cost way to fill a lot of space. Each cell is 3/4 of inch by an inch. Check here to see if Conehead Plug Trays are available.