Growing & using Pink Savory
Pink Savory is a rare member of the genus Satureja which it shares with its more well known "cousins" Winter Savory and Summer Savory. It is a strong culinary herb with overtones of oregano and thyme. Sometimes incorrectly referred to as Zatar, it is actually one of several herbs that can make up the Middle Eastern spice blend known as Zatar. The other components of Zatar can include, but are not limited to, Syrian Oregano and Conehead Thyme. Pink Savory may be used in any recipe calling for savory. The outcome will be slightly different but quite pleasing.
Pink Savory likes a warm, dry location. The bush above is about five years old and measures about two feet across and about a foot high. It is covered in pink flowers from early May until mid June. The flowers can also be used as a spicy garnish.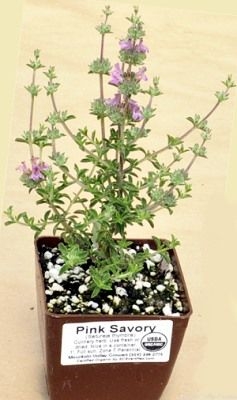 This plant is often available in plug trays. These trays hold 128 of all the same plant. They are a great low cost way to fill a lot of space. Each cell is 3/4 of inch by an inch. Check here to see if Pink Savory Pink Savory Plug Trays are available.