Growing & using Dwarf Blue Butterfly Bush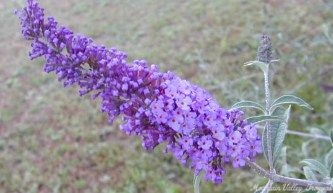 Butterfly bushes, sometimes called summer lilacs, are really butterfly airports. Their sweet, honey fragrance attracts a variety of butterflies and beneficial insects.
While Dwarf Blue is one of the tidier butterfly bushes, the title dwarf is misleading. It is the leaves and the flowers that are small and not the overall size of the bush. However, because the leaves are smaller the bush tends to grow a little slower and this slow growth creates a tighter shrub. While the other davidii's need yearly or bi-yearly pruning, this bush can be left alone to fulfill its growth potential.
If you garden in zones 5 or 6, it will probably die back in the winter. In the spring, when the shoots start coming up from the ground, dead branches should be pruned back.
Dwarf Blue Butterfly Bush is hardy to zone 5, tolerant of blazing hot sun, and able to grow in heavy soil with adequate drainage. While not truly blue (no butterfly bush is truly blue), Dwarf Blue Butterfly Bush does have a touch of blue in the flowers and goes well with pinks like our Magic Carrousel Miniature Pink Roses. Flowers, which are so important for pollination and controlling detrimental insects, will also attract beneficial insects.
Dwarf Blue Butterfly Bush is one of the six plants chosen to be in our Wildlife Herb Garden Six Pack.
It might also be included in our Butterfly Attractor 36-Plant Assortment, available in either 6 plants each of 6 different varieties, or 3 plants each of 12 different varieties.
This plant is sometimes available in plug trays. These trays hold 128 of all the same plant. They are a great low cost way to fill a lot of space. Each cell is 3/4 of inch by an inch. Check here to see if Dwarf Blue Butterfly Bush Plug Trays are available.
Growing and Using Butterfly Bushes