Growing & using Purple Garden Sage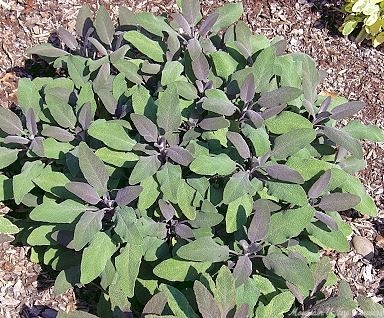 Purple Garden Sage likes full sun and well drained soil. Cut off any dead stems when they appear. Prune for shape at any time, but never cut back so low there is no growth showing. Unlike Garden Sage, Purple Garden Sage seldom blooms which keeps maintenance to a minimum.
Purple Garden Sage can be used just like regular Garden Sage.
It looks great planted with gray leaved plants like Lavender. In fact, the two together make a great after shave!
Lavender After Shave
Lavender with Sage is cool and soothing.
2 cups witch hazel
2 tablespoons apple cider
1 ounce dried lavender flowers
1 ounce dried sage
Combine the ingredients in a glass jar and close with a lid for a week. Shake daily. Remove the herbs and Enjoy!
From the Great What to do with your Herbs book: Herbal Treasures
Below is a photo of a rare Purple Garden Sage bloom.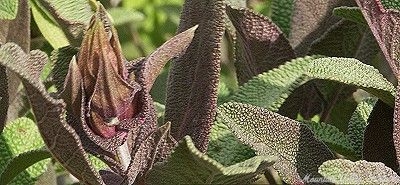 You might try Berggarten Garden Sage.