Growing & using Indigo Spires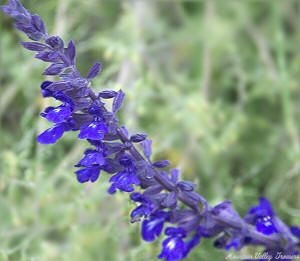 One of Indigo Spires' parents is the common Mealy Cup Sage or Salvia Victoria (Salvia farinacea). Quite a bit taller than its parent, Indigo Spires can reach three to five feet and sprawl to about the same width. The flower wands on this plant are almost two feet long and they bloom from about mid summer to frost, which the hummingbirds and beneficial insects truly appreciate. Plant Indigo Spires near other good size shrubs so they can help support the branches and give the bush a tidier appearance.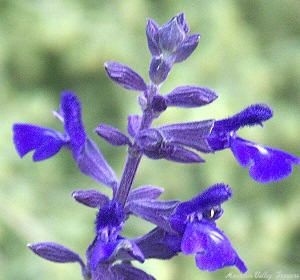 One of the hundreds of known Salvias, Indigo Spires is a relative newcomer. Found as a chance seedling in the Huntington Botanic Gardens of Pasadena, California, during the 1970's, it has become one of the most widely grown ornamental Salvias. It needs about five hours of sun a day and, after established, is fairly water conserving.