Growing & using Cleveland Sage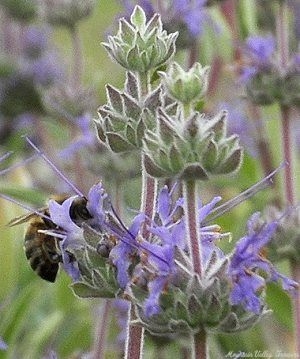 The beautiful flower heads of Cleveland Sage cover the large southwestern native bushes for 5 or 6 weeks starting in late April. Every year they grow larger and the display becomes more spectacular. A drought resistant perennial, Cleveland Sage is a wonderful choice for naturalizing large areas.
Gracias Sage is a dwarf cross of Cleveland Sage and Salvia sonomensis. It makes a nice ground cover for open areas.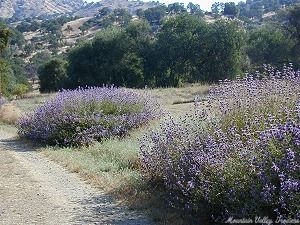 A dramatic shrub that starts blooming as spring turns to summer. Each of these shrubs are about six years old and easily span 8 feet in diameter. They stand about 3 to 4 feet tall. Shrubs this size make a good hiding place for birds. Ours have many resident Quail.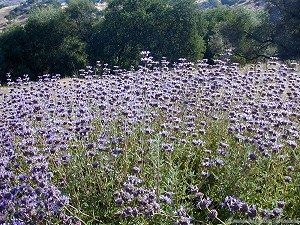 Cleveland Sage grows so abundantly that you might be tempted to grow it so you can bring in armloads of flowers. But, beware, this plant has significant fragrance and some find that just one flower stem can be overwhelming.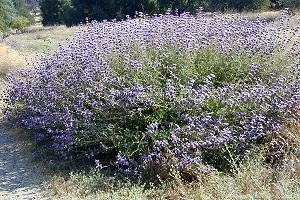 Our perfect shrub sometimes get pruned and sometimes doesn't. If you can live with the spent flower heads until the bush blooms again the next year then the new growth will pretty much hide last year's dead flowers.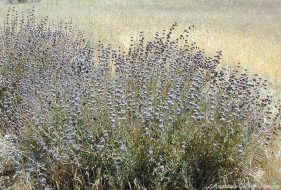 Cleveland Sage six months after blooming is still proudly waving its dead flower heads in the breeze.
Unlike some plants, Cleveland Sage either needs to be pruned after flowering or planted in a naturalized setting where the brown flower pods blend in.
This plant is sometimes available in plug trays. These trays hold 128 of all the same plant. They are a great low cost way to fill a lot of space. Each cell is 3/4 of inch by an inch. Check here to see if Cleveland Sage Plug Trays are available.