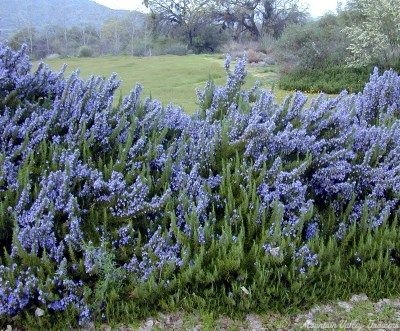 This is one of our favorite Rosemary varieties because of its carefree growth, great flavor and dark blue flower.
If you want a tidier hedge, Rosemary takes well to shearing. Leaving it unpruned allows stems to touch the ground root and continue to spread out. Either way it is a beautiful addition to the garden, or in our case, the driveway.
Rosemary leaves can be used fresh or dried. If used fresh be sure to chop them very fine or use whole stems and remove from food before serving. Add to our savory herbal marinade and chicken becomes a sensational dish. Cook the chicken in the marinade in a tinfoil pouch on the barbecue on low heat.
Savory Herbal Marinade
Featuring fresh herbs from YOUR garden!
2 1/2 Cups Red Wine
3/4 Cup Red Wine Vinegar
1 Small Onion or Several Shallots, chopped
2 Carrots, diced
1 Stalk Celery, chopped
2 Cloves Garlic, sliced
2 Fresh Greek Bay leaves, broken into pieces
2 Teaspoons each Fresh Thyme, Oregano, and Winter Savory, coarsely chopped
Salt
Allow meat to marinate overnight or about 12 hours.
To use on Chicken, exchange the red wine for white wine and the red wine vinegar for white wine vinegar. Change the herbs to French Tarragon, Lemon Thyme or Rosemary or any combination of those. For Pork, add fresh mint to the White Wine Marinade.
For Fish, use lemon juice and the Winter Savory chopped fine.
Or, cut 8 to 10 inch stems of Rosemary to make flavorful shish kabob spears. And it is a must to lay a sprig of Rosemary on lamb while roasting. It gives the lamb a whole new depth of flavor. Whole Rosemary stems also make a great addition to Red Stew, a stick to your ribs winter time treat.
Red Stew with Rosemary
A favorite dish for a cold winter day this was served many years ago by an excellent cook who included meat in his recipe. Over the years it has evolved into a vegetable stew. This makes a wonderful lunch served with fresh sourdough bread or an excellent side dish for pot roast or even hamburgers.
3 or 4 large potatoes washed and cut into chunks
5 or 6 large carrots washed and cut into chunks
1/4 teaspoon salt
1/4 cup soft shortening
1/4 cup soft butter
3/4 cup granulated sugar
1 egg
3 tbsp milk
1/2 cup chopped citron
1/2 cup currants or raisins
Granulated sugar
1 egg white, slightly beaten
2-15 ounce cans tomato sauce
2-15 ounce cans stewed tomatoes
Salt and Pepper to taste
2-8 inch Sprigs Rosemary
Cook carrots, sauce and tomatoes over low heat for about an hour. Add potatoes and rosemary and cook over low heat until the vegetables are tender, about another hour. The process can be speeded up by increasing the heat and both vegetables can be added at the same time. Add the rosemary during the last half hour of cooking. It also works well in a crockpot. Just add the rosemary during the last hour.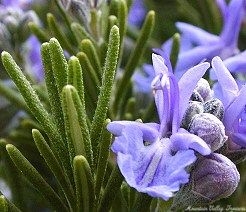 Rosemary is one of the six plants chosen to be in our Kitchen Herb Garden Six Pack and is often included in our Basic Culinary Herb 36-Plant Assortment, available in either 6 plants each of 6 different varieties, or 3 plants each of 12 different varieties..
This plant is often available in plug trays. These trays hold 128 of all the same plant. They are a great low cost way to fill a lot of space. Each cell is 3/4 of inch by an inch. Check here to see if Rosemary Plug Trays are available.