Growing & using Fingerbowl Scented Geranium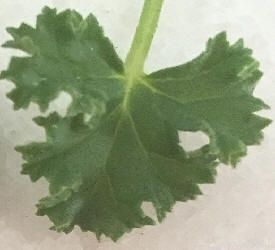 With leaves barely the size of a dime you don't expect the big burst of lemon scent that comes when you rub them. Fingerbowl Scented Geranium is like a miniature Lemon Crispum Scented Geranium. The name comes from the old tradition of putting lemon scented water bowls at the table to clean off the fingers after a messy meal.
You might like Lemon Crispum Scented Geranium or Prince Rupert Lemon Scented Geranium. Both are just as lemony and have similar sized leaves.