Growing & using Hopley's Purple Oregano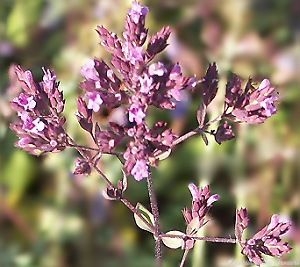 So beautiful, yet so tough. Hopley's Purple Oregano takes heat, and drought, and looks great in the garden planted with white flowering perennials like White Grosso Lavender or oranges like Gaillardia. This gorgeous ornamental oregano blooms from mid summer until mid fall. The thousands of tiny reddish purple flowers that combine in flower heads make a pectacular display. Like most Oreganos, these flowers attract butterflies.
For dried flower arrangements, cut when the flowers are in good color. Fresh flowers stems can be carefully arranged and left to dry for bouquets. Cut early in the day after the dew has dried but before the sun gets too hot. If you are going to be out cutting for a while, take a bucket of water and immerse the stem ends only. Hang gently upside down to dry, or just stand them up in a dry vase. To prevent shattering be very careful not to disturb the little flowers while they are fresh. Once dried they are somewhat more durable.
Cutting Hopley's Purple Oregano back to the ground whenever it looks unruly helps to keep it tidy and upright. And, it should be sheared to the ground after it dies back in winter.
Hopley's Purple Oregano makes a great addition to our Wildlife Herb Garden Six Pack.
Our Rosenkuppel Oregano is a more modern, sturdier ornamental oregano.
More about Ornamental Oreganos