Growing & using Hummingbird Flower, California Fuchsia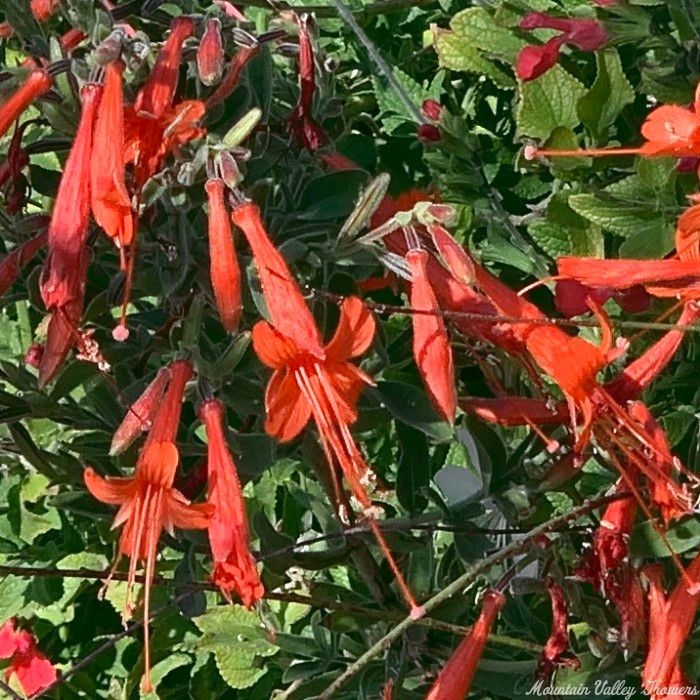 Hummingbird Plant is a gorgeous native California plant that has dark green leaves and bright orange tubular flowers that are rich in nectar. Because it blooms in the fall, it is important, not only for hummingbirds, but for our fall color.
The narrow flower is just the right shape for tiny little tongues to lap up sweet nectar. Since hummingbirds average 1000 flowers a day, it is fortunate that this shape keeps out a lot of other competing insects.
Hummingbird Plant doesn't die back to the ground here, but we shear it back to the ground after bloom to keep it tidy. It will regrow from the ground in the spring and begin spreading underground. If you wish to confine your plants, runners are easily dug out.
Hummingbird Plant is very drought tolerant but should not be thought of as a xeriscape plant. Some water is necessary to keep it looking nice in the summer and encourage the hundreds of flowers that will follow in the fall.
If you prefer a silvery look, you might check out Epilobium cana which has all the same attributes but with gray leaves.
For more information on fall blooming plants, be sure to check out Fall's Fabulous Follies.