Growing & using Lochinch Butterfly Bush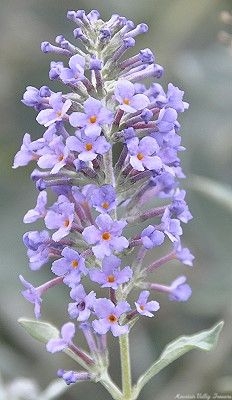 Lochinch Butterfly Bush is a stately shrub with felty leaves and beautiful dark lilac flowers. It blooms before the Buddleia davidiis start in early summer. Then it stops for the summer and starts again in the fall. Then, it will be one of the last butterfly bushes to stop blooming in the fall, making it a great asset for any butterfly garden.
If you garden in zones 7-9, this bloom sequence makes it a great companion companion to Royal Red Butterfly Bush which starts its summer bloom just as Lochinch shuts down for the summer.
Lochinch Butterfly Bush makes a great addition (for zones 7-11) to our Wildlife Herb Garden Six Pack and to our Zone 8-11 Fragrant Herb Garden Six Pack.
It might also be included in our Butterfly Attractor 36-Plant Assortment, available in either 6 plants each of 6 different varieties, or 3 plants each of 12 different varieties.
Growing and Using Butterfly Bushes