Growing & using Tree Wormwood
Tree Wormwood is an extremely fragrant, frilly leaved perennial that makes quite a statement in the mixed border. With its silvery leaves, Tree Wormwood looks a lot like its prodigy Powis Castle Artemisia except it gets taller and has long stems dotted with little yellow button flowers. Native to the Mediterranean, Tree Wormwood likes warm winters and full sun. To keep it looking nice in the garden it needs to be pruned. Fresh wreaths can be made by banding several stems together at a time and adding to other fresh herbs. This is a great way to keep the plant tidy. If we prune every year, we can just cut the whole bush back by a third. If it goes a couple of years, we cut it back so that each stem becomes upright once again.
Tree Wormwood would make a great addition to our Crafter's Herb Garden Six Pack and our Zone 8 Fragrant Herb Garden Six Pack.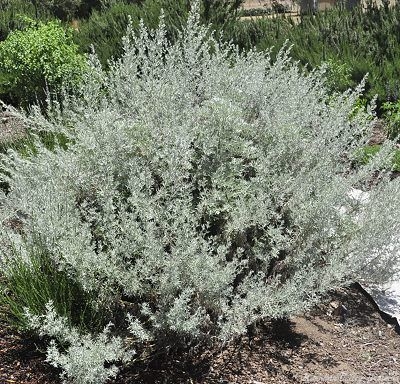 You might want to view our other Artemisias