Growing & using Silver Southernwood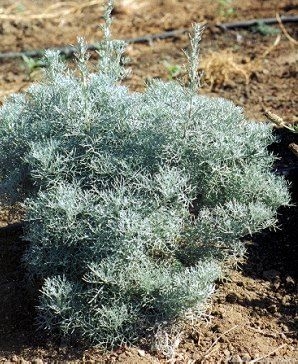 Silver Southernwood is most appreciated for its contribution to the landscape both for its soft gray appearance and for its fragrance. Flowering is rare and not very spectacular. The odd flower spike is easy to remove.
Silver Southernwood leaves keep their fragrance when dried which makes them a good choice for adding to sachets or potpourri.
Artemisias are truly amazing. They take many different forms from ground covers to large shrubs and run the gamut of colored foliage from silvery shades like those of Powis Castle Artemisia and Silver Southernwood to soft vibrant greens like those of African Wormwood and Southernwood.
Silver Southernwood is one of the six plants chosen to be in our Zone 5-11 Fragrant Herb Garden Six Pack and it also makes a great additions to our Zone 8-11 Fragrant Herb Garden Six Pack.
This plant is sometimes available in plug trays. These trays hold 128 of all the same plant. They are a great low cost way to fill a lot of space. Each cell is 3/4 of inch by an inch. Check here to see if Silver Southernwood Plug Trays are available.