Growing & using Orange Balsam Thyme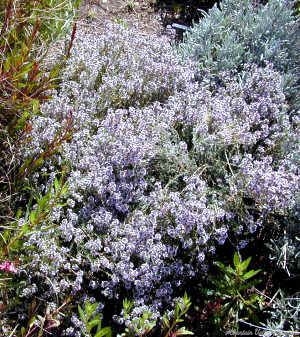 This swath is about four feet long and two feet wide. It is a loosely organized plant that works well here clambering up the side of White Grosso Lavender and flowing under the new reddish shoots of [Pink Gaura](/organic-plants/gaura-lindheimeri-pink-pink-gaura/)**.
Orange Balsam Thyme should be pruned back by about a third after bloom. This is easiest if the thyme stems are gathered by the fistful, snipping many at one time. When plants get larger, a hedge trimmer may be used.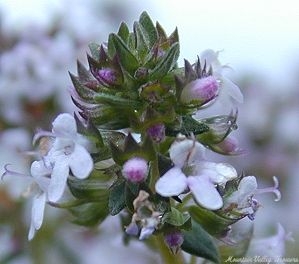 Orange Balsam Thyme is a variation of Thymus vulgaris, or English Thyme. It has a wonderfully pungent scent and flavor and can be used in any recipe calling for Thyme.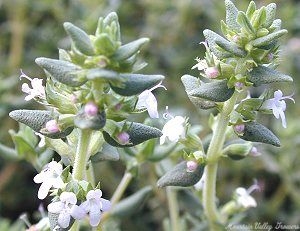 Orange Balsam Thyme makes a tasty addition to our Kitchen Herb Garden Six Pack and our Small Space Herb Garden Six Pack.