Growing & using Italian Oregano Thyme
Italian Oregano Thyme blooms in early spring just as the new growth from Marshall's Memory Oregano is emerging. The thyme is about 12 inches tall. It will bloom for about four weeks before shutting down. Once out of bloom, it is necessary to prune it back six or eight inches to encourage fresh useable growth. This will also make it tidier looking than if it is left alone to its own devices.
Oregano Maru and Italian Oregano Thyme Honeyed Pork Chops
4 Pork Chops
1/4 cup packed fresh Origanum maru
1/4 cup packed fresh Italian Oregano Thyme
About 1/4 cup honey
Salt and Pepper
Brush the pork chops on both sides with honey. Finely chop both herbs and mix together. Coat the chops on both sides with the herbs. Salt and Pepper to taste. Place on the high rack of the broiler and sear each side for about five minutes. Lower broiler rack and continue cooking until done. This usually takes about ten minutes per side (depending on the thickness of the chops). These delicious pork chops can be made using dried herbs instead by reducing the quantity by half. They can also be cooked on a grill.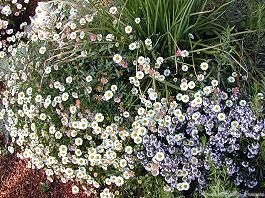 Italian Oregano Thyme makes a tasty addition to our Kitchen Herb Garden Six Pack and our Small Space Herb Garden Six Pack.