Growing & using Lemon Thyme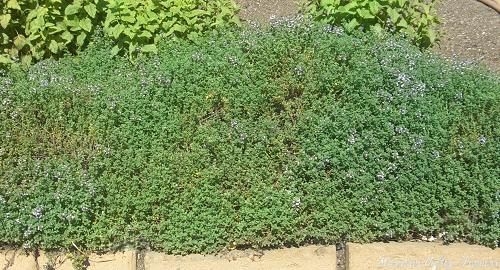 Lemon Thyme definitely smells like lemon and tastes like lemon. It can be used in any recipe calling for lemon juice, lemon zest or lemon flavoring. It grows like a weed so there is always more lemon waiting in the garden. Lemon Thyme is great with fish, chicken and vegetables.
Lemon Thyme grows rampantly and will layer its stems on the ground and root. It will continue to spread this way if left unchecked creating an undulating ground cover.
Lemon Thyme's glossy green foliage is sometimes used to fill one of the spaced in a knot garden because it takes well to shearing.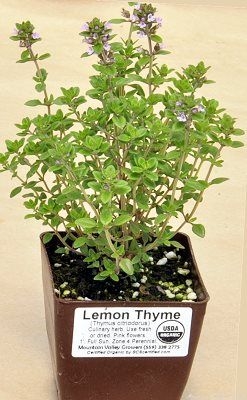 Lemon Thyme is one of the six plants chosen to be in our Gourmet Herb Garden Six Pack. It also makes a great addition to our Small Space Herb Garden Six Pack.
This plant is often available in plug trays. These trays hold 128 of all the same plant. They are a great low cost way to fill a lot of space. Each cell is 3/4 of inch by an inch. Check here to see if Lemon Thyme Plug Trays are available.