Growing & using Hi-Ho Silver Thyme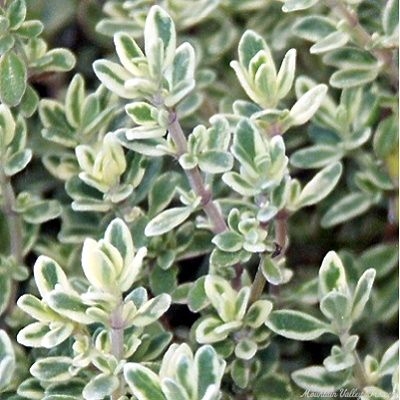 Hi-Ho Silver Thyme has greater irregular white variegation throughout the leaves than Silver Thyme.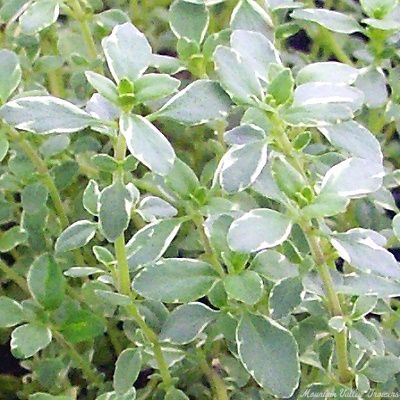 Silver Thyme. is edged with just the barest line of white.
Silver Thyme and Hi Ho Silver Thyme are delicious additions to any culinary herb garden. Both can be used in any recipe calling for Thyme.
Both of these make great container plants. Choose a well draining potting soil and give each plant a gallon of soil to start with. In a year or so, check to see if the roots are filling the container. If so, move up to a larger container.
If planting in the ground, be sure to give them room to spread. Or, keep their stems up off the ground so they don't root and increase the width of the plants. Hi-Ho Silver Thyme lights up any space in the garden.
Hi-Ho Silver Thyme is one of the six plants chosen to be in our Small Space Herb Garden Six Pack.
This plant is often available in plug trays. These trays hold 128 of all the same plant. They are a great low cost way to fill a lot of space. Each cell is 3/4 of inch by an inch. Check here to see if Hi-Ho Silver Thyme Plug Trays are available.