Growing & using Winter Savory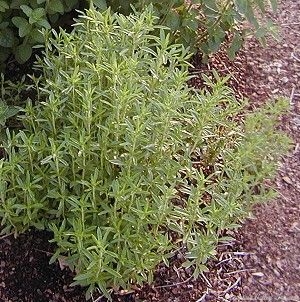 The most well-known Savory is Summer Savory (Satureja hortensis), a warm-weather annual that is best directly seeded into its permanent location. We prefer the durability and ease of perennials, or in this case, Winter Savory. It is an herbal mystery why Winter Savory is relatively unknown when for hundreds of years both Winter and Summer Savory have been grown and used, virtually side by side. Both have strong spicy flavor.
Winter Savory is a one-foot, dark green, semi-woody, herbaceous perennial that is hardy in zones 5 to 11. Easy to grow, it makes an attractive border plant for any culinary herb garden. Plant where it can get about six hours of sun a day in soil that drains well.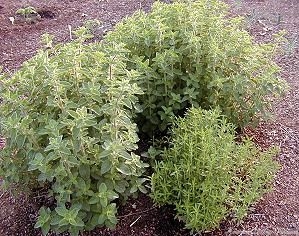 Winter Savory grows nestled on two sides by the soon-to-be giant Syrian Oregano.
This early spring shot shows the Oregano at about 18 inches and the Winter Savory at about 8 inches. Both are just starting their new season's growth spurt. Winter Savory's growth cycle starts in early spring as it emerges from the ground with lush, flavorful, rapidly-growing stems.
The longer these stems grow, the woodier they get. If left on the plant, they reach about 12 inches long and produce clouds of small white flowers. While attractive, this elongated flower branch is not very tasty. Supple sprigs that push up from the ground and new side shoots off the older woody stems are perfect for fresh or dried use. Older leaves along the arching woody branches should be left behind; they have more chance of unsightly damage from insects and weather and can become a bit like shoe leather. Removing old branches back to the ground a couple of times a year keeps the plant clean and open to the sun and air, and produces more lush growth.
Winter Savory is a great mixing herb. It blends well with different culinary oreganos, thymes and basils and can be added to meat, poultry or fish. Its small leaves are the perfect compliment to herb cheeses or as last-minute additions to sautes. Even though it has a strong flavor when fresh, it does not hold up well to prolonged stewing. Famous for making its mark on beans, dried Savory also perks up stuffings and can be mixed with Sage, Thyme, and Bay. Add to ground Turkey or Pork with Fennel Seed, Cayenne Pepper, and Thyme. Or, add a pinch to Chicken Salad (see below) or hearty soup. There are very few dishes that a little Winter Savory won't make better.
Here are some of our favorite Savory Recipes!
Savory Herbal Marinade
Featuring fresh herbs from YOUR garden!
2 1/2 Cups Red Wine
3/4 Cup Red Wine Vinegar
1 Small Onion or Several Shallots, chopped
2 Carrots, diced
1 Stalk Celery, chopped
2 Cloves Garlic, sliced
2 Fresh Greek Bay leaves, broken into pieces
2 Teaspoons each Fresh Thyme, Oregano, and Winter Savory, coarsely chopped
Salt
Allow meat to marinate overnight or about 12 hours.
To use on Chicken, exchange the red wine for white wine and the red wine vinegar for white wine vinegar. Change the herbs to French Tarragon, Lemon Thyme or Rosemary or any combination of those. For Pork, add fresh mint to the White Wine Marinade.
For Fish, use lemon juice and the Winter Savory chopped fine.
Perky Chicken Salad
Perfect with Summer Tomatoes
1/4 Cup Chicken Broth
3/4 Cup Mayonnaise
1 Teaspoon Fresh Winter Savory, minced
Dash of Curry Powder
2 1/2 Cups Cooked Chicken, diced
1 1/2 Cup Celery, diced
1/4 Cup Pecans, chopped
1/4 Cup Stuffed Olives, sliced
3/4 Teaspoon Salt
2 Cups Cooked Pasta, cooled
1 Cup Frozen Peas
Gradually add broth to Mayonnaise and blend well. Add Winter Savory and a dash of curry powder. Toss together chicken, celery, pecans, olives, salt and pepper, pasta and peas. Add Mayonnaise dressing and mix. Blend lightly. Serve with tomatoes and lettuce.
Winter Savory Stuffing
Works well with Turkey or Chicken!
12 Slices Stale Bread, cubed
2 Cups Raisins
2 Eggs
1/4lb Butter, melted
1 Medium Onion, chopped
1 1/2 Cup Burgundy Winter
3 Tablespoons Fresh Winter Savory or 1 Tablspoon Dried
Salt and Pepper
Moisten cubed bread with wine. Add all remaining ingredients; mix well and stuff prepared turkey. This is enough for a 10-12 pound turkey. Turkey can be basted with more melted butter and Burgundy wine (combined) which will make a delicious tasting gravy.
Winter Savory is one of the six plants chosen for our Small Space Herb Garden Six Pack.
This plant is often available in plug trays. These trays hold 128 of all the same plant. They are a great low cost way to fill a lot of space. Each cell is 3/4 of inch by an inch. Check here to see if Winter Savory Plug Trays are available.