Growing & using Garden Sorrel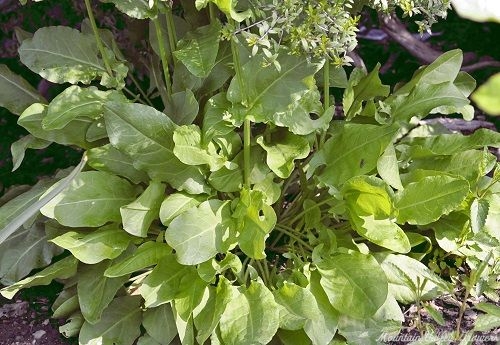 Sorrel is one of those plants that is easy to grow but no one seems to grow it anymore. Valued for centuries as an important early spring green, it is a lemony delight that should be grown in every garden. Sorrel is high in potassium and vitamins A and C. The Sorrel in the picture above grows happily under the shade of a Dwarf Myrtle. It gets about four hours of direct sun. The only problem we have with our Sorrel is getting to it before the bunnies do! We solved this by planting enough for both of us.
Sorrel is a sumptuous lemon flavored herb best enjoyed in early spring. Older leaves may be dried and added to winter soups and stews. Or, try dipping fresh sorrel leaves in egg batter and frying quickly for a crispy side dish. Pureed Sorrel is satisfying sauce for eggs or fish. Tougher cuts of meat can benefit from Sorrel's acidity by being wrapped in the leaves and then stewed or braised. Young leaves can be preserved by freezing in a bit of olive oil. Older leaves can be dried.
Deep Fried Sorrel
A tasty twist on an ancient herb
1 cup flour
2 eggs, separated
1 tablespoon olive oil
3/4 cup warm beer
salt and pepper to taste
Sorrel leaves, washed and dried
Whisk flour, egg yolks, olive oil, warm beer and salt and pepper until just blended. Just before using, whip egg whites until they peak. Holding the stem end, gently dip leaves into batter and let excess drip off. Fry in hot oil until golden.
Sorrel makes a great addition to our Gourmet Herb Garden Six Pack.
This plant is often available in plug trays. These trays hold 128 of all the same plant. They are a great low cost way to fill a lot of space. Each cell is 3/4 of inch by an inch. Check here to see if Garden Sorrel Plug Trays are available.