Growing & using Cinderella Miniature Rose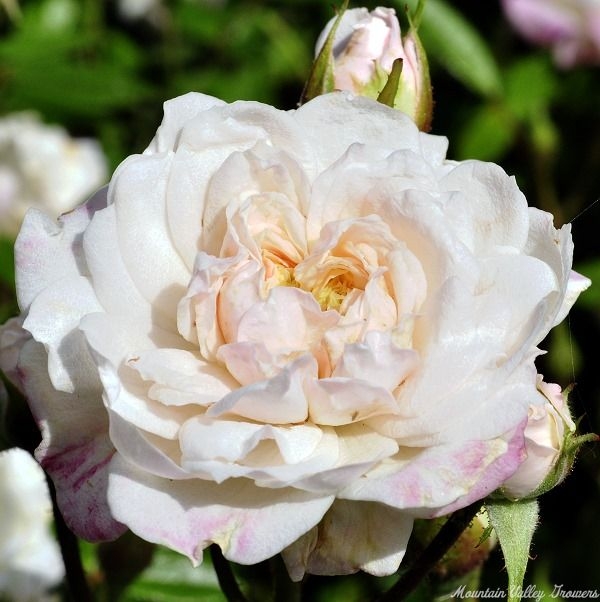 While the flowers of Cinderella Roses are tiny, the bush is quite substantial. In our hot climate, the flowers are mostly white, but in cooler climates or, during cooler periods in warmer climates, the flowers have more of a blush of pink. So many roses on each bush make Cinderella a very striking ornamental plant. It is also a perfect moonlight plant. Try adding a base plant of white Santa Barbara Daisy at the foot of the rose for extra highlights at night.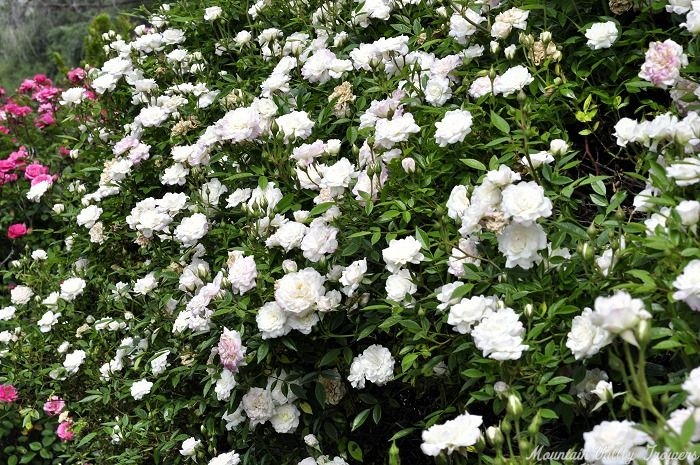 Cinderella Miniature Rose is ideally suited for hedging. Cinderella easily reaches three feet or more but takes well to shearing into shapes. Cinderella is also thornless which makes it nice in the mixed perennial garden or in a garden where children are present.
Like all roses, miniature roses are sun loving and fairly drought resistant. Plant in well drained soil and fertilize with an organic fertilizer in the spring. Dead canes can be pruned anytime but most pruning occurs in the fall when we shape the plant to the desirable height and width. All rose petals are edible, if grown organically, and make attractive garnishes for salads. They can be added after cooking to almost any dish. Whole buds can be used to decorate cakes or other confections. Before using any flower in food, a sample flower should be pulled apart and inspected for insects.
.
Cinderella Miniature Rose would make a great addition to our Kid's Herb Garden.
Occasionally this plant is available in plug trays. These trays hold 128 of all the same plant. They are a great low cost way to fill a lot of space. Each cell is 3/4 of inch by an inch. Check here to see if Cinderella Miniature Rose Plug Trays are available.
Choosing and Caring for Organic Roses