Growing & using Thai Basil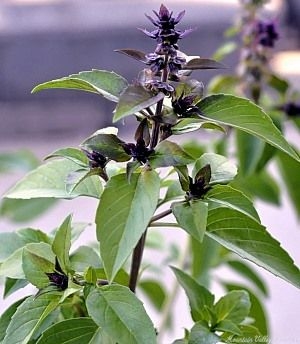 Above beautiful Thai Basil is in bloom.
Thai Basil has a distinctive anise taste found in many Southeast Asian dishes. Basils make superb container plants and need about two gallons of soil per season. Basils grown in containers should be fertilized with an organic fertilizer often.
Allowing enough space for each plant and fertilizing regularly will provide the optimum amount of growth. Flowers should be kept cut back. If you have a long growing season, consider a second start of basil about six weeks after your first crop goes in.
For more on growing, harvesting and using Basils, be sure to read our newsletter BASIL:The Crowning Jewel of Summer.
For more fun and recipes using basil, visit our Basil pinterest page.
Thai Basil makes a great addition to our Small Space Herb Garden Six Pack.
This plant is sometimes available in plug trays. These trays hold 128 of all the same plant. They are a great low cost way to fill a lot of space. Each cell is 3/4 of inch by an inch. Check here to see if Thai Basil Plug Trays are available.