Growing & using Curly Spearmint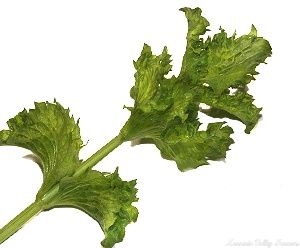 Curly Spearmint is our choice for summer swizzle sticks.
It has large frilly leaves on failry sturdy stalks that make a great garnish for any summer drink. Any mint that flowers will bring butterflies. They like it as much as we do. The only problem is when your mint flowers it is not making great leaves for you to use. So you may need two pots of mint, one for you and one for the butterflies.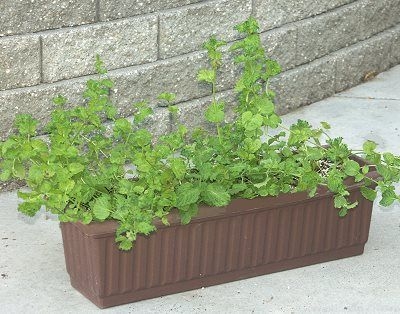 A container with a large surface area helps mint to grow abundantly.
Mints grown in five to six hours of sun develop better color and flavor. In hot summer areas, late afternoon shade helps to cut down on the watering chores. Curly Mint is hardy to zone 5 and will die back to the ground in winter. Cut Curly Mint to the ground in late fall and it will be fresh and crisp in spring when it starts to grow again. It may need to be divided in the spring. When the mint stops producing heavily, it is time to thin out the roots. Spearmints are best used fresh for cooking and making cocktails!
Like all mints, Curly Mint flowers are attractive to butterflies so it makes a great addition to our Wildlife Herb Garden Six Pack. Curly Mint makes a great swizzle stick. Add it to our Zone 5 Tea Herb Garden for some extra fun!
This plant is often available in plug trays. These trays hold 128 of all the same plant. They are a great low cost way to fill a lot of space. Each cell is 3/4 of inch by an inch. Check here to see if Curly Mint Plug Trays are available.
Read our Mint Care and Tips page for more on how to tame your mint.
See our Great Mint Repotting Caper for more on proper soil, division and replanting of mints.