Growing & using Chocolate Mint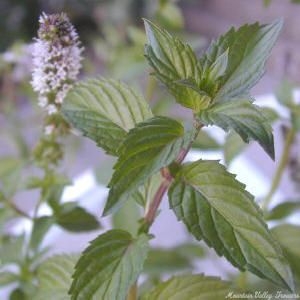 Chocolate Mint neither smells nor tastes like chocolate, but rather it is reminiscent of an Andes after-dinner chocolate mint. Thus, the suggestion of Chocolate is there and is strong enough to make us love it.
Great dried and added to black tea or used by itself, Chocolate Mint also makes a nice addition to chocolate deserts or a surprise addition to breakfast breads, as in our special Chocolate Mint Banana Bread Recipe.
Chocolate Mint Banana Bread
1/2 cup softened butter
1 cup brown sugar
2 extra large eggs
1 cup mashed banana
1 teaspoon vanilla
1 teaspoon baking soda
1 teaspoon salt
2 cups unbleached all purpose flour
1/2 cup chopped walnuts
1/8 cup dried, crushed chocolate mint leaves
Preheat oven to 350 degrees. Butter a 9x5 loaf pan well.
Cream butter and sugar until fluffy and light in color (3-4 minutes). Add eggs, banana, and vanilla and mix well. Sift flour, soda and salt and add to egg mixture. Blend well but not for too long. The flour should be beaten just enough to incorporate it with the wet mix. Stir in chocolate mint and, if desired, nuts.
Bake for about hour or until a toothpick inserted in the middle of the loaf comes out clean.
Mint can have different strengths depending how the plant was grown and how old the leaves were when harvested.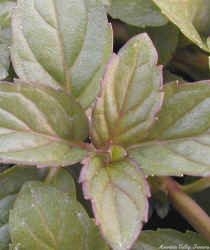 Mints develop their best colors and flavors when grown in the sun like this Chocolate Mint. There are two growth phases for mints, at first, in early spring, the stems head up to make flowers. After flower production, the horizontal runners take off and cover a lot of distance in a short time. Bees and Butterflies love mint flowers.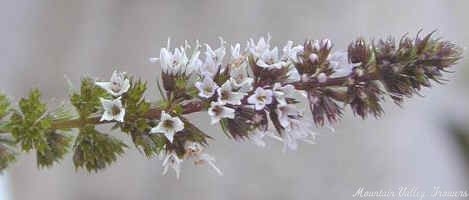 Chocolate Mint flowers open from the bottom up. The green pods on the left are bracts that have already dropped their flowers. The tip will continue to elongate and flower.
Chocolate Mint is one of the six plants included in our fun Kid's Herb Garden Six Pack and in our Gourmet Herb Garden Six Pack.
This plant is often available in plug trays. These trays hold 128 of all the same plant. They are a great low cost way to fill a lot of space. Each cell is 3/4 of inch by an inch. Check here to see if Chocolate Mint Plug Trays are available.
Read our Mint Care and Tips page for more on how to tame your mint.
See our Great Mint Repotting Caper for more on proper soil, division and replanting of mints.