Growing & using Munstead Lavender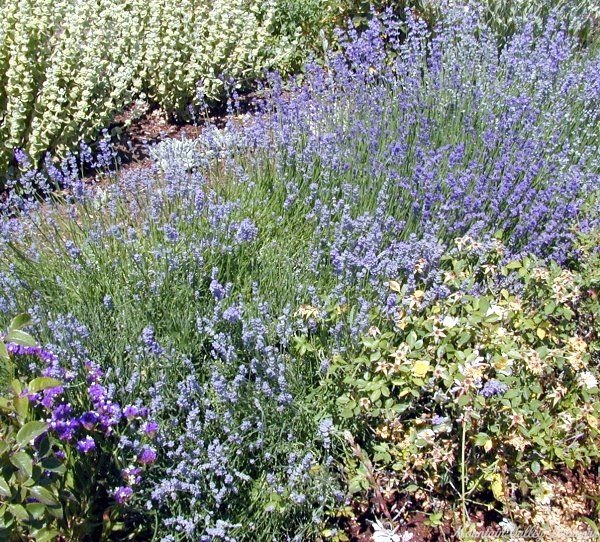 Munstead Lavender looks great nestled among prolific yellow Rise and Shine Miniature Roses and a bit of Midnight Blue Statice on the left. The rose has finished blooming and leaves behind the open star base which will have a nice little rose hip under it.
One of the Lavandula angustifolias or English lavenders, Munstead English Lavender is a fragrant robust lavender that, due to its short size (about 18 inches) and tightly held blooms (about 8 inches), makes a great hedge. It can also be used for knot gardens. It flowers profusely in the spring, after which a good pruning will provide an attractive gray bush with highly aromatic leaves.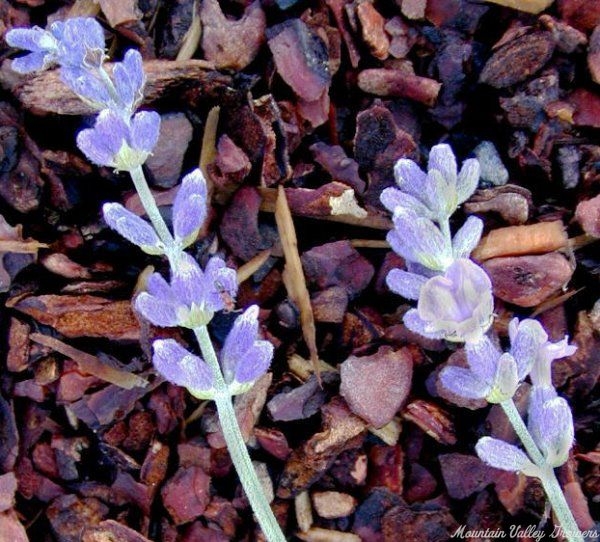 Lavender flowers are full of rich sweet flavor and are especially nice when used with sweets. Add a tablespoon of finely chopped lavender flowers to any sugar or butter cookie recipe or add two tablespoons to any pound cake or white cake. This makes an elegant addition to tea time. They are also good for butters and cream cheese recipes. Use about 7 Tablespoons of chopped flower petals to one-half pound softened butter. As with all edible flowers, pick when just opened and not when starting to turn brown. Waiting even a day or two to pick, can affect the flavor. It is best to eat only the flower petals. Do this by pulling the flowers away from the little brown or green cap that holds them. Lavender flowers can be fresh-frozen or dried.
While Jean Davis English Lavender has the sweetest flower, it can be difficult to find just the right spot for it to grow in. Munstead Englsih Lavender flowers are also tasty and it is much easier to grow.
Munstead English Lavender is one of the six plants chosen to be in our Edible Flower Herb Garden Six Pack.
Munstead English Lavender makes a great addition to our Zone 5-11 Fragrant Herb Garden Six Pack.
This plant is often available in plug trays. These trays hold 128 of all the same plant. They are a great low cost way to fill a lot of space. Each cell is 3/4 of inch by an inch. Check here to see if Munstead English Lavender Plug Trays are available.
LAVENDER 1-2-3: Choosing, Planting, Growing, Pruning, Harvesting and Using lavender plants