Growing & using Gotu Kola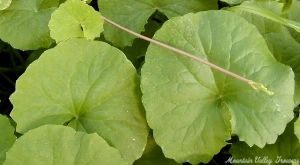 Gotu Kola (formerly Centilla asiatica) is native to the hotter, steamier regions of Asia. It is particularly prized in India. And, even though most areas in the United States cannot overwinter this plant, it has done well in our greenhouses.
The more you water Gotu Kola the bigger the leaves get. Even though it is normally considered a medicinal herb the new leaves taste like a cross between carrots and parsley. Throw a few in a salad and see if your guests can guess the mysterious exotic ingredient!
This plant is sometimes available in a plug tray. These trays hold 128 of all the same plant. They are a great low cost way to fill a lot of space. Each cell is 3/4 of inch by an inch. Check here to see if Gotu Kola Plug Trays are available.