Growing & using Dinosaur Kale
One of our favorite leafy green is Kale. We carry Lacinato Kale which, due to its prehistoric look is sometimes referred to as Dinosaur Kale.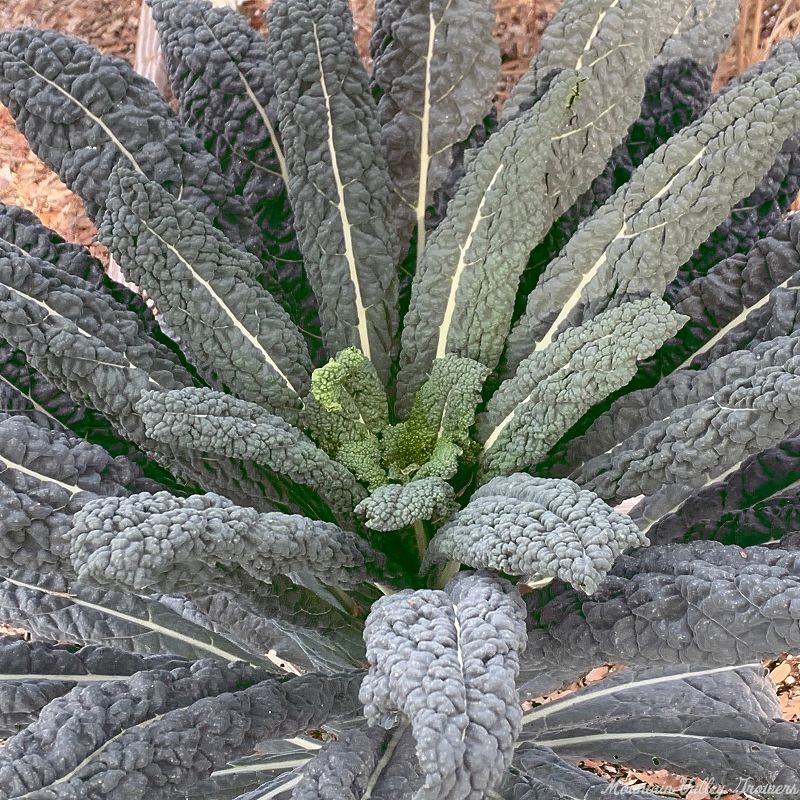 Looking at a Kale leaf you might think it would have to be cooked to be edible but this is not true. A massaged Kale salad is one of the most delicious meals we make. And massaged Kale can be used a substitute for any recipe calling for spinach. Add a few Arugula leaves to your Kale salad and the flavor profile takes on a whole new dimension.
Massaged Kale Salad
Kale (can also use Mustard or baby Swiss Chard)
Olive Oil
Salt
Feta Cheese (optional)
The amount and kind of greens are up to you. The final product will reduce to about half of what you start with. Figure out how many cups of salad you want to end up with and double the number of cups of greens you start with. Kale, Mustard and baby Swiss Chard can all be fixed this way. A combination of these is also tasty.
Remove the ribs of the greens. These make tasty additions to soup and can be frozen for later use.
Wash the greens and roll tightly in a clean kitchen towel. Refrigerate for at least 15 minutes.
Remove from the towel and dry off any excess moisture. Roll the leaves together lengthwise and slice across the width into thin ribbons.
Place the greens in a bowl large enough to toss them around.
Add a tablespoon of Olive Oil and a sprinkle of salt. At this point, we like to add some feta cheese also but this optional or it can be added at the end of the massage.
Now massage the leaves with the oil until they have reduced by half.
Your salad is ready! Obviously there are as many variations as there are cooks. But this basic recipe is delicious on its own. We also use it to make a delicious massaged kale lasagna. Be sure to prepare a lot of Kale for the dish.
Lacinato makes a great addition to our Kitchen Herb Garden Six Pack.
For more information on all the greens we carry, including nutrition facts and recipes, please visit our pinterest board for ORGANIC GREENS.