Growing & using Clove Pink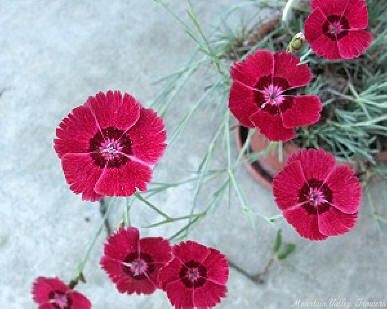 Dianthus gratianopolitanus Nova sprawls its silvery gray stems and deep dark pink flowers to about a foot. Plant it at the edge of a hanging basket and it will flow over the edge providing care free color and spicy scent.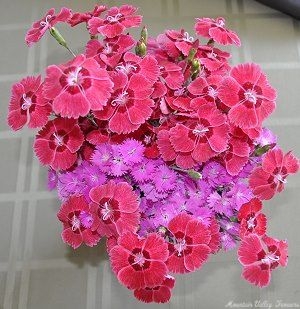 Fragant Dianthus make simple, fragrant spring time bouquets. The large pink flowers are the Nova and the smaller purple flowers are Firewitch.
Dianthus 'Nova' (Clove Pink) is one of the six plants chosen to be in our Zone 5-11 Fragrant Herb Garden Six Pack.
Nova, with its edible flowers, makes a good additions to our Small Space Herb Garden Six Pack which is a culinary garden.
These plants are often available in plug trays. These trays hold 128 of all the same plant. They are a great low cost way to fill a lot of space. Each cell is 3/4 of inch by an inch. Check here to see if Dianthus Nova Plug Trays are available.