Growing & using Morning Cloud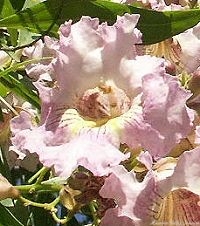 The Chitalpa tree is a cross between Catalpa bignonioides and Chilopsis linearis. The Chilopsis is a desert tree, sometimes called a Desert Willow. From the Chilopsis, the Chitalpa inherits long 3 to 5 inch dark green leaves and the ability to withstand some dry heat. However, unlike its desert parent, the Chitalpa can withstand low temperatures of around minus 15 degrees.
In this respect Chitalpas are more like Catalpas which are hardy to almost every zone in the United States. The beautiful azalea like flowers of our Pink Dawn are also similar to those of a Catalpa, but there are no messy catkins like on the Catalpa.
The Chitalpa starts flowering in late spring and flowers until late fall. And, while it does drop flowers, the beauty they provide makes whatever mess they make more than tolerable. The Pink Dawn flower above is just one of thousands of blooms that appear each and every day during the many months of bloom provided by this heat tolerant patio tree.
Morning Cloud has the same great form, but is showing itself to be more resistant to powdery mildew which can be a problem with for Pink Dawn in areas with humid springs.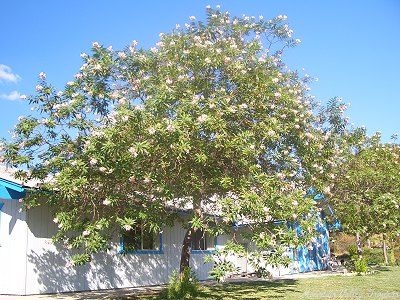 Chitalpas have long taproots so they won't ruin our patios and they drop all their leaves in a short period of time so autumn clean up is easier. Undoubtedly one of their best qualities is how fast they grow. At several feet a year the Chitalpa reaches its 25 to 30 foot height and breadth quickly and makes shady spots fast.
One of the nifty extras with our Chitalpas is that they provide nectar for hummingbirds. Put that together with a Pink Butterfly Bush and it is a virtual airport for, not only hummingbirds who like the Butterfly Bushes too, but, also, for butterflies, bees and beneficial insects.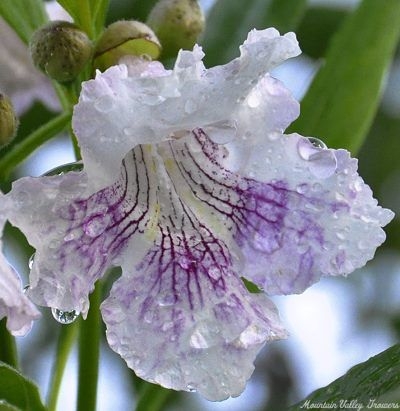 We have found Morning Cloud Chitalpa to be significantly more resistant to summer leaf drop caused by early spring powdery mildew.