Growing & using Roman Chamomile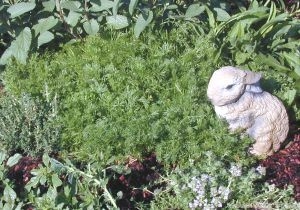 Roman Chamomile is one of those small plants that packs a big aromatic punch. Smelling like a Jolly Rancher sour apple candy, it makes an odiferous bright green ground cover in cool summer climes. Often used in England to fill in cracks between pavers or as a path cover or even as a soft bench cover, it is sometimes referred to as English Chamomile. However, a German botanist, visiting Rome in the mid-sixteenth century, coined the term Roman Chamomile and that name was destined to stick.
The Egyptians, Greeks and Romans all used and even revered Chamomile. The Egyptians compared the sunny daisy flowers to the sun and dedicated it to their sun god, Re (Ra). The Greeks gave it the name that eventually led to the word Chamomile. They called it Kamaimelon. Kamai means on the ground and melon means apple, so you get ground apple. The Romans, who probably got it by way of Britain, bathed in it, walked on it and used it medicinally.
Chamomile is a common term that is most frequently used for two distinct plants, Chamaemelum nobile, Roman Chamomile and Matricaria recutita (German Chamomile). This tends to confuse most everyone.
Both are collected and used medicinally and for the famous cup of relaxing Chamomile tea. Both have bright, sunny, daisy-like flowers with yellow centers and white petals. Both have soft delicate foliage that is pleasingly scented (thought the scents differ slightly). With both, it is mainly the flower that is dried for medicinal use or tea.
Yet, they are botanically different and that is why they belong to different Genera. It is the parts of the flowers that separate the two. Roman Chamomile has a tiny papery bract between the florets that German Chamomile does not. Also, the cone in the center of the daisy is solid in Roman Chamomile and hollow in German Chamomile.
Roman Chamomile is three or four inch high perennial that prefers cool summers; German Chamomile is an annual that can reach two feet and can be grown almost anywhere. Roman Chamomile doesn't really flower all that much, which is probably why more harvesting is done from the German Chamomile. German Chamomile can usually be cut a couple of times during the growing season because it takes only a few weeks to make a new crop of flowers. Leaving the last crop of flowers to go to seed will help ensure the sprouting of German Chamomile seedlings everywhere next spring. Roman Chamomile also sets seed but not so prolifically. It sometimes need to be divided and replanted after three or so years.
Roman Chamomile can be used to make a fragrant pathway or a nice aromatic surprise tucked among other garden plants. If it pushes against other plants it can get up to a foot high with bloom. It can also be mowed to the ground to keep it flat. However, it is an important beneficial insect plant so leaving those flowers on may be a better choice!
And while Chamomile is best known for its soothing medicinal properties, take note that some folks can be allergic or sensitive to Roman Chamomile. Those most susceptible are those who are allergic to members of the ragweed family.
Chamomile can be used for more than just a sweet smelling ground cover or a tasty tea. The fresh flowers can be used as a garnish. Just be sure to remove the green bitter leaves under the flowers.
The flowers and the leaves can also be used in potpourri in combination with other dried flowers.
And, there are endless combinations of tea, both hot and iced, that Chamomile can lend its unique flavor and scent to.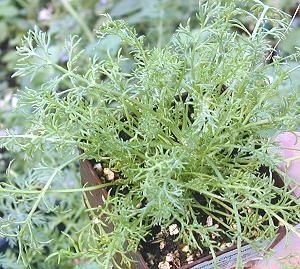 Roman Chamomile is one of the six plants chosen to be in our Zone 5-11 Fragrant Herb Garden Six Pack and it is sometimes included for Eastern Gardens in our Alternative Lawn 36-Plant Assortment, available in either 6 plants each of 6 different varieties, or 3 plants each of 12 different varieties.
Chamomile makes a tasty addition to our Edible Flower Herb Garden Six Pack.
This plant is often available in plug trays. These trays hold 128 of all the same plant. They are a great low cost way to fill a lot of space. Each cell is 3/4 of inch by 3/4 of an inch. Check here to see if Roman Chamomile Plug Trays are available.