Growing & using Giant Woolly Butterfly Bush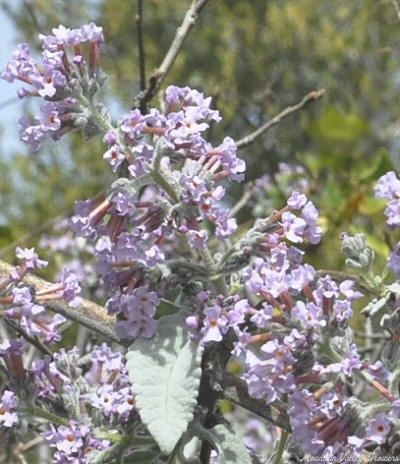 Giant Woolly Butterfly Bush is a tree like form of Himalayan Butterfly Bush or more accurately a form of Buddleia crispa. We gave it the common name of Giant Woolly Butterfly Bush because it really had no common name in commerce that we could find. It was once thought to be a different species, Buddleia agathosma, but was reclassified in 1996 and put in the species crispa.
All we really need to know is that it is big, bold and beautiful. It has the silvery leaves and fragrant lilac flowers that Himalayan has but is more than twice the size. The Butterflies love it.
Giant Woolly Butterfly Bush can reach to about 15 feet but can be pruned and still be resplendent at about ten feet.
While we give this plant a zone 8 rating, there is some confusion about how much cold it will take. Since we are zone 8 and it does fine here, we have rated it at this zone. If you grow it in a lower zone, we would love to hear from you.
Giant Woolly Butterfly Bush makes a great addition (for zones 6-11) to our Wildlife Herb Garden Six Pack and to our Zone 8-11 Fragrant Herb Garden Six Pack.
Growing and Using Butterfly Bushes