Growing & using Winter Flowering Butterfly Bush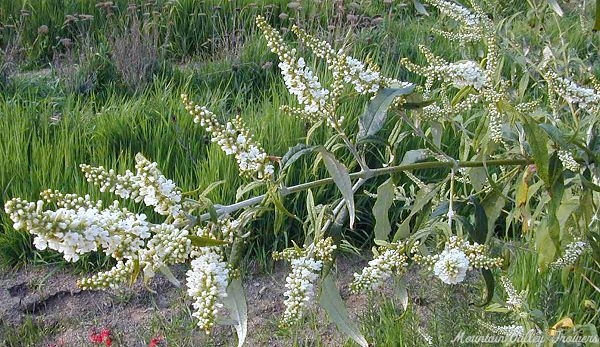 The fragrance of this Buddleia more than makes up for the short season of flowers. While other Buddleias do have a luscious honey aroma, it doesn't waft through the air with the heavenly scent of Freesias or Lilacs like Buddleia asiatica.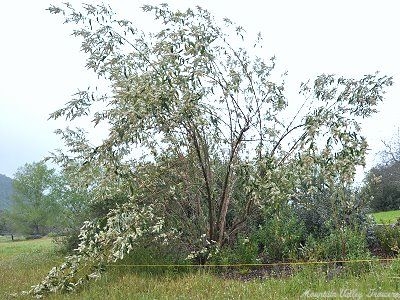 The Winter Flowering Lilac, Buddleia asiatica, can reach 12 feet or more and has widely spaced leaves that often curl or hang down. The green mass behind this Winter Flowering Lilac is a mature Royal Red Butterfly Bush which is about six feet tall.
Winter Flowering Lilac blooms in late winter and early spring and often looks like it is all flowers with no leaves at all. When the flowers are finished the shrub tends to look dead. Unlike, the more common Buddleia davidiis, B. asiatica blooms on year old wood so we do not prune until late spring when we can see what branches will make it through the winter. Soon new bright green leaves with felty white undersides will grow, but the shrub will remain without flowers the rest of the season.
Native to Asia, this warm weather butterfly bush has naturalized itself, probably spread by wind, on moist lava beds in Hawaii. Amazingly, they grow and thrive, but don't get as tall as they would in an irrigated garden.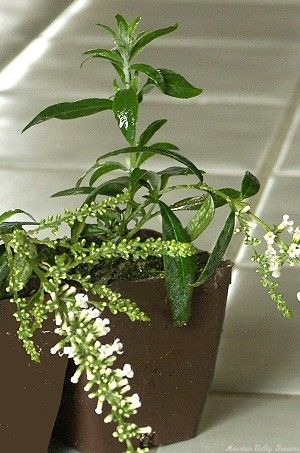 When the time is right it will even bloom in our little pot!
Winter Flowering Lilac makes a great addition (for zones 8-11) to our Wildlife Herb Garden Six Pack and to our Zone 8 Fragrant Herb Garden Six Pack.
Growing and Using Butterfly Bushes