Growing & using Chocolate Scented Daisy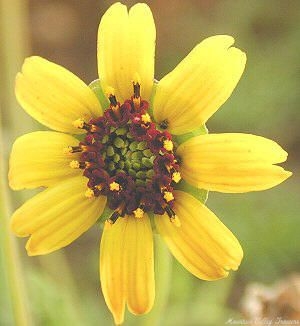 Those little yellow pin points sticking out at you are the actual flowers of the daisy. These come together with the petals to make the bigger "flower".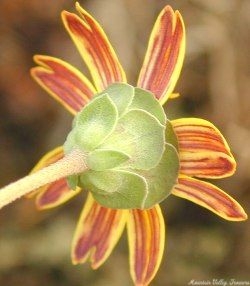 The "Chocolate Fragrance Award" goes to the Chocolate Scented Daisy (Berlandiera lyrata), a quarter-size, vibrant, yellow daisy with striking red striped undersides and chocolate-colored stamens.
A small plant with an airy habit, Chocolate Scented Daisy (sometimes called Chocolate Flower) makes a nice, informal edging plant, and is most impressive and most fragrant when planted in groups.
Although native to the Southwest, Chocolate Scented Daisy has shown itself to be adaptable to a wide spectrum of conditions. A night bloomer, the flowers offer up their rich cocoa scent in the morning. As the temperature rises the petals close or drop and the fragrance recedes.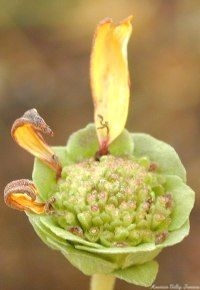 After the petals fall, left behind is a set of green bracts cupped around the head of the flower. The effect is like a daisy with a green eye, which is why Berlandiera is also referred to as Green Eyes. In Texas and Florida, there are slightly different species of Berlandiera and these are, respectively, called Texas and Florida Green Eyes.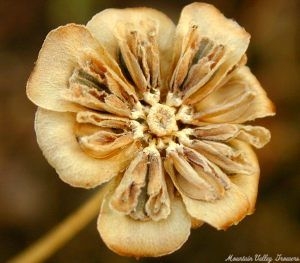 As the bracts dry, they flatten outward and make a convenient holder on which the large milk chocolate colored seeds will ripen. Left alone to drop or be carried, these seeds come up readily the next spring.
If harvested before the seeds come loose at the center (note the cream colored attachment points around the middle), these brown heads make an attractive addition to the autumn dried arrangement.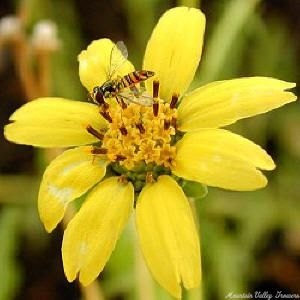 As this little beneficial hover fly has discovered the fragrant part of the Chocolate Daisy is the stamens.
Like many ray flowers, Chocolate Daisy is an important beneficial insect attractor. Diversity is important when trying to attract these helpful insects. Planting many different kinds of flowers provides for the varied tastes of this diverse population.
The fragrant stamens also taste like cocoa, or more accurately like unsweetened chocolate. But, they are much more enjoyable adding their delicious fragrance to the garden than being eaten.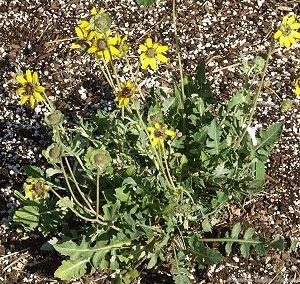 Berlandiera dies back to the ground in winter and returns with a larger crown each spring, ultimately reaching about two feet across and about 18 inches high.
Chocolate Scented Daisy is one of the six plants chosen to be in our Zone 5-11 Fragrant Herb Garden Six Pack and in our fun Kid's Herb Garden Six Pack.