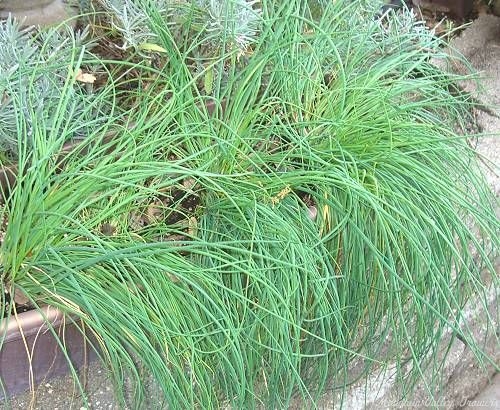 Little spears of culinary delight pretty well sums up the humble Chive. Not as overwhelmingly oniony as an onion, the Chive has a subtler yet still rich flavor that works well alone, like on top of your baked potatoes, or with other ingredients, like baked into bread. They grow just about everywhere and with very little effort. Every three years or so they need to be lifted and divided because they tend to grow themselves out of space. They don't dry well, but they can be frozen.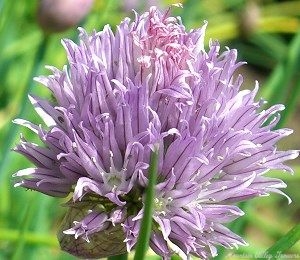 Chive flowers are spectacular and can be used for garnish in salads or light stir fries. Chives are sometimes used as an edging plant because they are easy to grow and have attractive mauve colored flowers. Tiny beneficial insects also enjoy Chive flowers. These beneficial insects not only help keep the bad bugs in check but also provide food for other wildlife. Planting yarrow near vegetables and fruits improves pollination and health of the garden.
Chive seeds can be sprouted for a nutritious winter dish. Please make sure you use organic seed, either seeds you have grown in your organic garden, or ones purchased from a reputable dealer.
Chives are part of the mixture 'Fines Herbes', a mixture of finely chopped fresh herbs usually added at the end of cooking. Herbs commonly used are equal parts of three or four of the following: Basil, Chervil, Chives, Marjoram, Mint, Parsley, Rosemary, Sage, Savory, Tarragon or Thyme. The easiest way to "chop" Chives is to cut them with scissors.
When you harvest Chives take a section of spears (leaves) in your hand (just what you need for dinner) and cut that section all the way to the ground. If you cut in mid spear, then that spear will turn into dead grass and make cutting new growth cleanly difficult.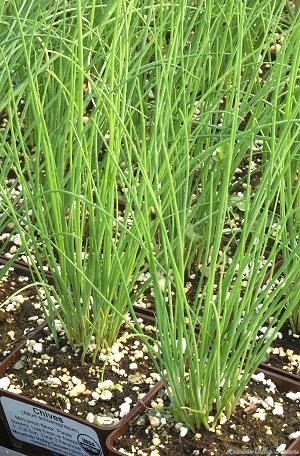 These young Chives ready for shipping. The older they get, the fatter their spears get.
Chives are one of the six plants chosen to be in both our Kitchen Herb Garden Six Pack and our Small Space Herb Garden Six Pack.
With their spicy edible petals, Chives also make a good addition to our Edible Flower Herb Garden Six Pack.
This plant is often available in plug trays. These trays hold 128 of all the same plant. They are a great low cost way to fill a lot of space. Each cell is 3/4 of inch by an inch. Check here to see if Chive Plug Trays are available.