Growing & using Burgundy Glow Ajuga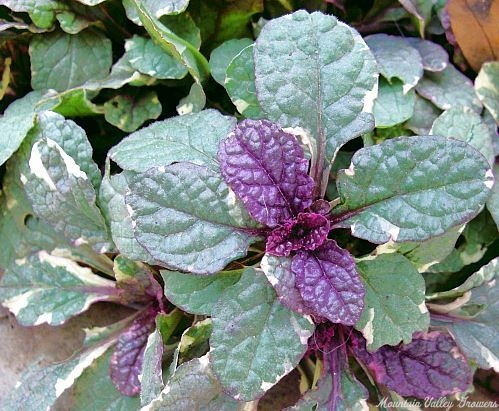 Sun brings out the intense coloring of Ajuga which makes it a great choice for shady woodland areas or sunny areas with plenty of water. Darker leaves are common in colder, shadier locations.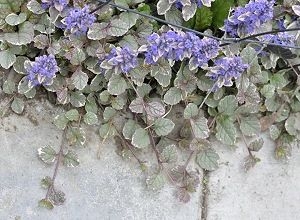 Ajuga has tiny bluish purple flower spires that show up in early April. We like the way it softens the edge of this stone. It won't grow out much further onto the stone because the stone is dry and the stems need moist soil to root in. Give it moist soil and it just keeps spreading.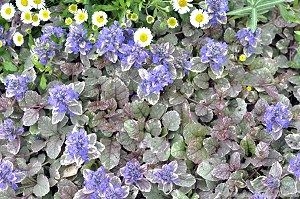 Peeking out over the top of the Ajuga blooms, Santa Barbara Daisy blooms at the same time and also makes a great ground cover.
Both Santa Barbara Daisy and Burgundy Glow Ajuga can take light foot traffic. Burgundy Glow Ajuga is a dense ground cover while Santa Barbara Daisy is taller and more airy. Both are spectacular.
This plant is often available in plug trays. These trays hold 128 of all the same plant. They are a great low cost way to fill a lot of space. Each cell is 3/4 of inch by an inch. Check here to see if Burgundy Glow Ajuga Plug Trays are available.